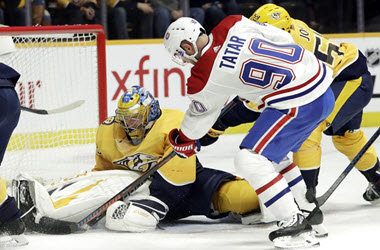 The Nashville Predators welcomed the Montreal Canadiens last night at the Bridgestone Arena, and it was thanks to the goaltending skills of Pekka Rinne that made the difference and saw the Predators send the Canadiens packing.
The first period went scoreless thanks to Pekka Rinne. The Finnish goalie stopped 34 shots on goal last night to help the Predators end a three game losing streak. Brian Boyle, who was picked up by Nashville from the New Jersey Devils, scored his first goal since joining the team. Also scoring was Viktor Arvidsson and Ryan Hartman. Assists were awarded to Ryan Ellis, Ryan Johansen, Roman Josi, Craig Smith and P.K Subban.
Rinne was instrumental in helping Nashville get through the second period stopping 21 shots. Peter Laviolette, coach for the Nashville Predators, commented that he felt Rinne was outstanding last night. Montreal's Tomas Tatar scored their only goal and Cary Price had 35 saves for the night. The lost was the first time since the early part of January that the Canadiens have lost back-to-back games.
Commenting, Carey Price said,
"I thought it was a pretty entertaining game going both ways. I thought we held our own for sure. We don't like the result, but I thought we played a good team well."
It wasn't until the midway point in the third period that Nashville, after Montreal had tied the game at 14:34, that Brian Boyle scored with a blistering slap shot from just inside Montreal's blue line.
Sportsnet
It was his first since joining the Predators after being traded. Boyle was set up by P.K Subban, a former Montreal Canadien, with a dropped it back to Boyle. That is good news for Nashville fans interested in placing bets with leading sportsbooks. Boyle commented in post-game interviews that,
"We've got an active 'D,' so you've got to be able to cover. I had some probably higher quality chances earlier, but whatever, I'm excited to win. It's a really good feeling. It's great to do it at home, too."
Arvidsson, who has been denied an earlier scoring opportunity by Carey Price in the second after going on a breakaway made it 3-1 for Nashville two minutes later after picking up a pass across the crease from Ryan Johansen. It was Arvidsson's 26th goal this season and Johansen sixth game in a row where he earned points.
Ryan Hartman scored Nashville's first goal in the second after knocking down an attempt by Jonathan Drouin to clear the puck from Montreal's zone. Hartman passed to Craig Smiths whose shot bounced off the pads of Price only to see the rebound picked up by Hartman and buried into the net.
It was Hartman's tenth of the season and his first goal since the middle of December. It also brought an end to a dry spell of 27 games without scoring for Hartman, who commented that,
"It was a long time, longest streak I've ever had at any level, so it was a good feeling."
The Canadiens had not played since the 9th and the time off showed after being outshot 16-8 in the first period. That was not lost of coach Claude Julien who, in post-game media interviews said,
"Our first period made it look like we hadn't played in four or five days. We weren't very good. In the second period, we seemed to get our legs going. We seemed to find our game, but we didn't capitalize on our chances. We had lots of them and that's what probably hurt us in the end."
The Montreal Canadiens next play Tampa Bay on Saturday and then are off to take on the Florida Panthers on Sunday to end their three game road trip. Nashville will face off against the Vegas Knights on Saturday then meet the Dallas Stars on Tuesday before returning home to welcome the L.A Kings on Thursday.