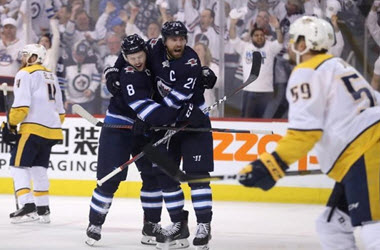 The Winnipeg Jets were in trouble 20 minutes into Game 3 on Wednesday night but hunkered down and dug themselves out of that hole with determination, skill and power to come from behind and take the win in Game 3 against the Nashville Predators.
Winnipeg has the best win record when playing on home ice in the NHL but were slow at the start and seemed affected by the double overtime loss to the Predators in Game 2 after winning Game 1.
When it comes to the playoffs, the Jets are an inexperienced team but in their arsenal are two who are well versed in the playoffs, Dustin Byfuglien and Paul Stastny, who combined have played 114 playoff games. Then there is Blake Wheeler to lend some guidance.
Nashville had a 3-0 lead going into the second period, however the second period was owned by the Jets and quickly saw that lead dissolve to the disappointment of Nashville.The Jets score their first at the 17:15 minute mark, scored their second at 14:49 and tied the game 18 seconds later when Blake Wheeler scored from the side of the net.
With 44 seconds left in the second, the Jets made it 4-3 when Wheeler scored his second goal. Yet the Predators were not done fighting back to tied up the game with 12:20 remaining in the third period.
The Jets made it 5-4 late in the third and with less than a minute left to play Winnipeg added not one, but two more to its total for the night on an empty net to give the Jets a 7-4 victory and a 2-1 lead in the series.
Sportsnet
When questioned about what was said during first period intermission, Blake Wheeler said,
"We just went out to win a period. There was no question this team could come back. We just wanted to give ourselves a fighting chance."
Commenting on the crowds inside and outside of the arena, Byfuglien said,
"It's always great, it always helps our team. It gives you a little more drive. It's good that they are on our side."
The Winnipeg Jets will play host to the Predators tomorrow night for Game 4, and the series will return to Nashville for Game 5, and if needed, return to Winnipeg for Game 6, and Nashville for Game 7.