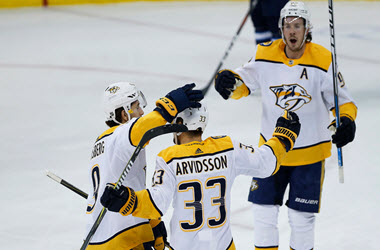 The Nashville Predators have not been the same team they were in their run to winning the Stanley Cup two years ago. However, last night they managed to come away with a win after ending overtime tied with the Minnesota Wild.
While they may not be the same team, the chance to get back into an equal form is still very real. Last night was encouraging as Ryan Johansen scored during the fourth round of the shootout. That led to the Nashville Predators winning 3-2 over the Minnesota Wild and bringing an end to their five game winning streak. Commenting on the win, Ryan Johansen said,
"A step in the right direction. Some more adversity today on the road and just finding a way to win. We're going to build off that."
The third period saw the Wild ahead 2-1 until Filip Forsberg tied the game 2-2 with just over 4 minutes remaining. It was the first win for Juuse Saros, who was minding the net for Pekka Rinne. Also scoring for Nashville was Nick Bonino and assists were handed to Rocco Grimaldi, Roman Josi, Wayne Simmonds and Kyle Tussis.
Minnesota's Jason Zucker and Eric Fehr both scored in the second period separated only by three minutes. The Wild are in a tie for earning the first Western Conference wild card spot with Dallas, but that could change as Dallas has played one game less than Nashville. Zucker stated, post-game that.
"We all expected to win that game no matter what the travel is, especially if we played our game. I thought we played pretty well."
Sportsnet
Last night was the first time that Mikael Granlund met his previous team. Granlund was traded for Kevin Fiala six days ago. The night saw Grandlund being honoured with a video tribute during the first period intermission and that was met with cheers from the crowd.
The night was emotional for Grandlund who only found out about the deal from Paul Fenton, general manager of the Wild, while his fiancé was in the middle of labour delivering their first child. At 27, Grandlund became a father the day after and then met his new team on Friday as they took on the Winnipeg Jets
Granlund, who joined the second line with Craig Smith and Kyle Tussis, was part of a deal that is meant to help improve Nashville's power play, which is sitting at the lowest in the NHL at 12.5%. Last night, Nashville were zero for two on the power play. Commenting, Granlund said,
"It's been fun to play games. Hopefully, I'm going to find my rhythm and systems and everything so I don't need to go out there and think."
Nashville has been in a bit of a slump of late having seen four of their key players missing a large amount of time due to injuries. This includes Filip Forsberg, P.K. Subban, Viktor Arvidsson and Kyle Turris. In their last twelve games, they have only won five and are having to work harder to stay within the leading teams in the Western Conference.
That is not good news for punters who have put their support behind the Predators. However, tonight's win and the acquiring of Granlund will be seen as favourable with sports betting sites such as Bet365, who offer NHL action and generous signup bonuses. Coach Peter Laviolette commented on the predicament saying,
"We need to start pushing our collection. I really liked the resiliency of our group."
The Nashville Predators will next welcome the Carolina Hurricanes on Saturday and the Toronto Maples Leafs on Tuesday. Minnesota will continue on their current road trip with stops against the Tampa Bay Lightning and the Florida Panthers.