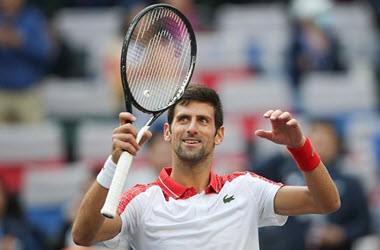 The Shanghai Masters semifinals was a day Borna Coric will remember fondly, Roger Federer, however, will remember it differently after watching Coric advance to the Sunday's finals.
Roger Federer was looking strong as the defending champion of the Shanghai Masters but was upset by the lesser seeded Borna Coric in back-to-back sets 6-4, 6-4 on Saturday in Shanghai. After winning the second set, Borna Coric stated that the match was one of the best in his life. This will be the third time the Croatian will face Djokovic, and he is hopeful it will be the one he walks away with the trophy after their two previous meetings resulted in a loss for Coric.
Nadal Djokovic, who is currently ranked third in the world, will now jump to second after his two set semifinal win over 5th seeded Alexander Zverev. Djokovic dominated in the first set winning 6-2, and things did not improve for Zverev, who struggled in his quarterfinal match against Nicoloz Basilashvili, losing 6-1 and bringing an end to his time in Shanghai.
The loss for Roger Federer was devastating for a current No. 2 seeded player. After an incredible year that has seen him win three titles, the loss to Coric was not expected. Coric elegantly ended the final game serving an ace and then sending a rapid forehand return to win the set point.
Coric never gave Federer the chance to break point and was effective in breaking Federer's serve in the first set and second sets opening games. In the four times, the two have played against each other, both have now won twice and lost twice. Coric's first win against Federer came in Halle last June.
Tennis TV
Currently, Djokovic is ranked third and Federer second but Nadal Djokovic win against Zverev on Saturday, and Roger Federer's loss to Coric will see Djokovic and Federer swapping the No. 2 and No. 3 rank positions.
Djokovic has been superb in Shanghai going thirty-seven service games without being broken. Zverev was never given a change by Djokovic to earn break point, but Djokovic succeeded in breaking Zverev's service four times.
Unfortunately, Zverev let emotions get the best of him after sending a backhand return into the net. Frustrated, he hit his racket against the court crippling his racket before tossing it to the crowd. Zverev has twenty-four unforced errors compared to Djokovic's nine.
Djokovic, who is hoping on Sunday to win his 72nd career title. His win record is impressive, to say the least with 817 wins and 173 losses, and with his 1000th match taking place against Zverev, he said,
"I did everything I intended to do on my end. It's all working and it's been a couple of perfect matches. I wouldn't be so dedicated to this sport if I didn't believe that I can achieve great heights," Djokovic said. "But you always have to kind of pinch yourself, particularly at this stage of my career, and be grateful because in the end of the day, I did have an awesome career so far that has blessed me with a lot of great achievements."
If Djokovic is successful on Sunday, it will be his fourth title this year. He won the U.S. Open, Wimbledon and the Masters in Cincinnati. Sunday's Shanghai Masters final, for punters looking to place bets in support of Djokovic or Coric with one of our top-rated tennis betting sites, will take place at 4:30 in the centre court at the Qizhong Forest Sports City Arena.