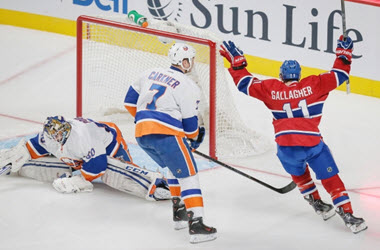 The Montreal Canadiens stepped up to the plate tonight and earned their place in the post-season after defeating the New York Islanders in a game that saw Carey Price stopping 27 shots and earning a shutout.
As the regular season is on the cusp of ending, Montreal needed a big win if they hoped to have a shot in the post-season. That win came tonight as the Montreal Canadiens managed to shut out the Islanders 4-0 and continue to have a shot in the Eastern Conference.
Scoring for Montreal was Joel Armia, Jonathon Drouin, Jordon Weal and Shea Weber. Armia also earned an assist as did Drouin, Weal, Jordie Benn, Jesperi Kotkaniemi and Nate Thompson. Montreal has now won two games in a row.
New York's Thomas Greiss had 18 saves on 22 shots before being pulled and replaced with Robin Lehner in the second period. Lehner stopped 12 shots. Montreal, who began the night being a point behind the Columbus Blue Jackets, could not have planned the win better as they fight for a spot in the playoffs.
Sportsnet
The New York Islanders have given up nine goals in the last two games and that is important to factor into the equation when placing bets for the post-season and remainnig regular season games, especially when placing bets with any of the recommended leading bookmakers at betting.ca. They lost 5-0 to the Bruins and again tonight they failed to score a single goal. They may have the NHL's best defence, but that is not enough to win games.
Montreal and New York went back and forth with the puck in the first period before Joel Armia put Montreal ahead 1-0 in the period's final seconds during a power play. Armia managed to put it past Greiss from the right side. It was Armia's first power play goal in his NHL career.
The second period saw Montreal coming out strong and dominating New York. It didn't take the Canadiens long before that effort paid off with Shea Weber sending a wicked slapshot past Greiss to make it 2-0.
The Islanders only decent chance at scoring came when Jordon Eberle went in on Prive but was unable to capitalize on the play. That was not helped by the fact Eberle is dealing with an injury to his upper body and seemed unable to outplay Price. That failure saw Eberle sitting out the next shift and shortly after, Jonathon Drouin made it 3-0 before Jesperi Kotkaniemi score Montreal's fourth of the night.
The Canadiens will meet the Buffalo Sabres on Saturday and while not as important of a game as tonight, it is in preparation of the pending post-season. The New York Islanders will play Philadelphia on Saturday and Arizona on Sunday.