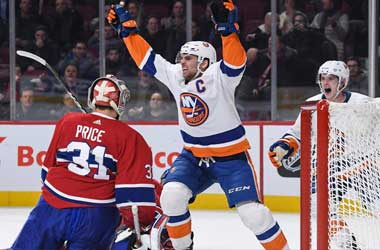 The New York Islanders managed to score in overtime against the Montreal Canadiens and win 5-4 in Monday night NHL action. John Tavares scored the winning goal just shy of the two-minute mark of overtime, making it his 2nd goal of the night and New York's Thomas Greiss has a career-high game with 52 saves.
New York was deep in the Montreal's end when Tavares got in front of Gary Price and reached around the left side to score the winning goal. This comes after New York gave up the lead not once, but twice after Montreal tied the game 2-2 with 7.50 remaining in the first period.
New York regained the lead less than three minutes into the second period, and Tavares score his first on the night less than three minutes later to give New York a 4-0 lead. Montreal, while on a power play scored only to have the goal reversed due to a challenge from the Islanders bench. Not to be deterred, Montreal scored with 44.6 seconds remaining in the second to make it 4-3, and with 7 minutes left to go in regulation time, the Montreal Canadiens tied the game 4-4.
After the game, Tavares commented saying,
"Greiss was the difference-maker, gave us the chance to win, without that effort he had tonight, we're not in this position."
The Islanders, who are in the midst of a three-game winning streak saw Mathew Barzal scoring one goal and got credit for two assists, as did Anthony Beauvillier after he connected with a pass from Barzal and got one past Price early in the first period.
NHL
Barzal is having an excellent rookie season with the Islander and leads the rookie NHL point's race with forty-seven points with 16 goals and 31 assists in 47 games.
Said Barzal,
"I think that was a winnable game for us right from the start, being up 2-0, and you don't want to give up a lead like that when you know you can win games like that on the road, so that's a big win for us."
Montreal's Max Pacioretty had his fourth goal in four games to tie the game during a power play. Jonathan Drouin, Paul Byron and Nicolas Deslauriers also score on Price, who has nineteen saves for the night. Montreal outshot the Islanders 56-24.
Commenting on the shots on goal, Pacioretty said
"Our team shoots from bad angles often, and maybe against some teams more than others, sometimes we get stuck in doing so instead of trying to make that extra play. It's a fine line between wanting to make that extra play and passing up a shot, or just putting it on net. There's a time and a place for everything, and we've got to balance that out."
The last three games for Montreal has seen the team win two and lose one. This included a loss to the Bruins in a shootout on Saturday.
Montreal Canadien Coach Claude Julien stated,
"The effort's there, and we're going to keep working with this group because last game, against Boston, we did a really good job in our own end, tonight, not so much. We've got to get back to the drawing board and see if we can't tighten up in certain areas."
As action in the NHL heats up, New York is sitting third in the league. Montreal is struggling this year being near the bottom of the standings and clearly needs a solid finish to the regular season if they hope to make the playoffs. For punters in Canada looking for favourable NHL sportsbetting odds with hockey betting sites, there are many promotions that are favourable for NHL betting as teams shuffle in the race towards the Stanley Cup playoffs.