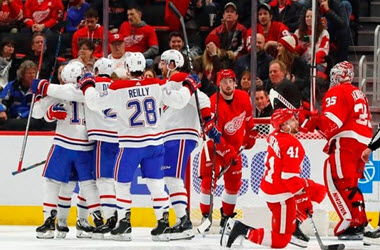 The Montreal Canadiens pulled off a late period goal to hold off the Detroit Red Wings last night, and for Jeff Petry, it was a goal that was long overdue.
The Montreal Canadiens and Detroit Red Wings began the third tie 2-2, but it took Petry only 20 seconds into the third to score and put Montreal up 3-2. The Canadiens managed to hold off Detroit to earn the victory.
Petry, whose father was Dan Petry, a pitcher for the Detroit Tigers in the 80's, it was the winning goal, and the 54th in his professional career commented that,
"It's exciting to get that in this building, in front of a lot of friends and family. When I got the puck I thought I had to get it off pretty quick and I picked my head up and saw there was a little more room. So I got myself a few more steps in and got myself in a better position."
Also scoring for Montreal was Joel Armia and Brendan Gallagher. Assists were earned by Tomas Tatar, Jordie Benn, Phillip Danault and Max Domi. Gallagher and Armia's goals were just over a minute apart in the second period.
The first came 30 seconds into the second while in a scrimmage in front of the Red Wings net after the puck became loose and was tapped in by Gallagher. Less than a minute later, Max Domi sent a pass to Armia, who was alone in front of the net and sent a wrist shot past Jimmy Howard.
Both of Detroit's goals were scored by Andreas Athanasiou, with assists awarded to Luke Glendening, Anthony Mantha and Gustav Nyquist. Last night's game was the end of a five game road trip for Detroit that produced only one win.
For Jeff Blashill, coach for Detroit, he felt they gave up three easy goals adding,
" We got to work like dogs to get our goals and then you give away three easy ones. It's hard to score every night. I thought we worked, I thought we were on the forecheck, I thought we did enough good things to win. We just can't give away goals."
Sportsnet
Athanasiou managed to pick up on a turnover after Montreal failed to get the puck out of their zoned and slammed one past Antti Niemi to make it 2-1 and midway through the third, after Montreal went up 3-1, scored his second with 15 minutes remaining. However, the Red Wings were unable to get beyond the Canadiens often looking sloppy and unorganized. Commenting on the first goal, Athanasiou said,
"I tried to look over like I was going to pass. I don't know if it worked, but I was hoping Niemi would read the pass and give me somewhere to shoot."
Detroit pulled Niemi in the final minute, but the extra man advantage failed to get the job done wasting precious time passing back and forth looking for an opening, and that saw the Red Wings failing to take a shot before the clock ran out.
The Canadiens improved their road trip record to 12-7-3, a small improvement over their at home record. Coach Claude Julien commented that,
Montreal next heads out for a one game road trip against St Louis before returning home to host the Nashville Predators on Saturday and the Minnesota Wild on Monday. Detroit also hits the road for a two game road trip against Winnipeg on Friday and Minnesota on Saturday. Interested in betting on hockey? Register with one of our leading online sportsbooks today and claim a generous signup bonus and enjoy continued promotions throughout the NHL season. Sign up today!