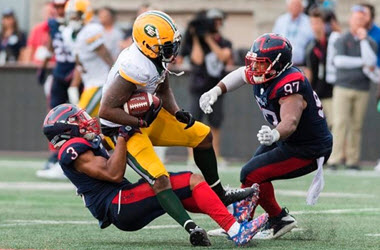 The Montreal Alouettes won their third back-to-back victory on Saturday, and a big part of that success lies with star quarterback, Vernon Adams Jr. Adams was instrumental in helping lead the Alouettes to a 20-10 victory and with it, extend their winning streak.
It was coach Khari Jones decision in the first quarter to execute a trick play that changed the tone for the Montreal Alouettes, and the Eskimo's were thrown off, enough that it seemed to impact the rest of the game.
Playing under hot and humid conditions, Montreal is finally on a winning streak, a streak that is long overdue. Commenting on the good fortune and play by coach Khari Jones, Vernon Adams Jr said,
"You have to have guts to make that call, and Khari is that guy. You saw it when he was playing back in the day and you see it in his play calls now. He's not holding back for anybody."
The Alouettes were without wide receivers DeVier Posey and B.J. Cunningham, both of whom remain on the injures list, and that required Jones to be creative in how he worked the offense. That saw Jones pulling out their own Philly Special, one that Montreal had only ever practise once when Edmonton was sitting on the Alouettes 21 yard line.
We will let this play speak for itself!!!#CFLGameday #ToujoursGame pic.twitter.com/A2lAJSmXb3

— CFL (@CFL) July 20, 2019
After taking possession of the ball, Adams handed it to running back William Stanback and took off running. Stanback reversed his position and handed it to Eugene Lewis, who threw a pass to Adams who was not far from Edmonton's end zone. After handing the ball to Stanback, Admas doubled around and headed into the Edmonton's zone and after catching the Lewis pass, scored Montreal's first touchdown of the game. Commenting, Adam's said,
"We threw it in practice and Geno threw a pick. Coach said we're not going to call it anymore for the rest of practice but we're going to call it in a game."
The irony is, while Adams played receiver during his sophomore year, Lewis played quarterback in his final year of high school. Lewis, who calls the play a "Philly Special" commented on the play stating,
"That's not the exact name that we use but I came here today wearing my Allen Iverson jersey. I'm from Philly and that's what it is. Meant to be."
The play was a sign that Montreal as a team and becoming more confident after suffering back-to-back losses at the beginning of the season. That included their home opener against the Edmonton Eskimo's. It is the first time since 2016 that Montreal has won three games in a row, and for coach Jones, that shows how tight they are. Commenting, Jones said,
"We are for real right now. Whether it's a message or not, I want our guys to know we're for real and we're going to come to play every week. We're building that mentality week by week and the guys are starting to believe it."
The Alouettes were up 10-3 by the second quarter, in part thanks to a field goal kicked in by Sean. That lead almost disappeared as the first quarter neared an end when Kenny Stafford caught an end zone pass by Edmonton Eskimos QB Trevor Harris. However, that touchdown was overruled after Colin Kelly was called for holding. Instead, Edmonton has to settle for a field goal, and it simply wasn't enough. Edmonton coach, Jason Maas was not pleased as was indicative of his comments.
"Overall we have to clean things up. That's not winning football. It's hard enough as it is to win on the road, but when you're not helping the cause, it's troubling."
Huge win in Ottawa.

Next up Edmonton Eskimos at 🏠

Be there 🎟 https://t.co/ekF33NLfRY#ToujoursGame #Montréals

Grosse victoire à Ottawa.

Prochain match à la 🏠 contre les Eskimos d'Edmonton.

Soyez-y 🎟 https://t.co/f9BrWqrUJA pic.twitter.com/louUq31ATF

— Alouettes de Montréal (@MTLAlouettes) July 13, 2019
Edmonton managed to reduce that lead to 10-9 during the early part of the third quarter after scoring a 48-yard field goal, his 17th in a row. However, Montreal was quick to respond after Adams sent a pass to Jake Wieneke in the end zone to make it 17-9 for Montreal. With just under ten minutes remaining, they added three more with a field goal to end the fourth quarter 20-10.
The Montreal Alouettes will next play host to the Ottawa Redbacks on Friday, August 2 before welcoming the Roughriders on the 9th. Punters interested in placing bets on these and other CFL games will find a great range of promotional offers available with leading Canadian sportsbooks. Register today and take advantage of the many sign up bonuses, all in time for the 2019 Grey Cup.