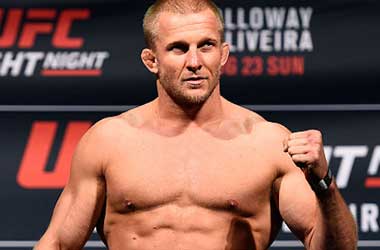 UFC Fight Night Stockholm was a great event for MMA fans as the fighters put up a great show and the UFC brass will be pleased with what went down. Toronto fans on the other hand will be a little disappointed as Misha Cirkunov lost after he was knocked out in the very first round with just 28 seconds on the clock by Volkan Oezdemir who is from Switzerland.
Cirkunov who fights in the light weight division was ranked 7 entering the Octagon and had an impressive 8 fight win stream. UFC fans believed that Cirkunov had a great future in the light weight division as he had never been finished prior to his bout with Oezdemir, who was ranked 5.
Cirkunov was the favorite to win and in the first few seconds of the fight looked launched an attack on Oezdemir who took it chin up before throwing a quick right that caught Cirkunov above his left ear and resulted in him going down.
UFC – Ultimate Fighting Championship
The referee was quick to call a stop to the fight and it took a few moments for the fans to realize what happened. During an interview in the Octagon, Oezdemir said
That was the second time people were not thinking about me, but I'm here now — count on me. I came from nowhere and made my way to the top by fighting top-ranked guys, and I'm going to do the same.
This was the first time that Misha Cirkunov has been knocked out in his UFC career.
The Cirkunov and Oezdemir fight was the co-main event for UFC Fight Night Stockholm and was probably the only fight on the main card that did not live up to expectations. The crown soon forgot about the co-main event as Alexander Gustafsson who is the face of MMA in Switzerland took on Brazil's Glover Teixeira in the light heavy weight division and put on a performance that MMA fans in Switzerland will remember for a long time to come.
Alex 'the mauler' Gustafsson dominated the fight and looked in control at all times but fans will remember the heart and spirit of Teixeira who refused to go down and took a severe beating but kept coming back. However Gustafsson finally managed to knock him out with brutal upper cuts to secure a win that now makes him a strong contender for a title shot. Gustafsson ended the night on yet another high by choosing to get down on one knee and proposing to his girlfriend in the center of the Octagon