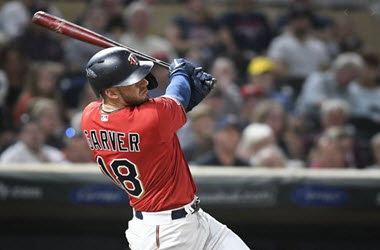 The Minnesota Twins continue to see thier confidence grow after they came from behind to earn a 5-3 victory over the Chicago White Sox on Monday night.
José Berríos earned his second back-to-back start and pitched for eight innings helping to push the Twins closers to earn a spot in the post-season. It was thanks to Mitch Garver's double that pushed them over the top of Chicago. Commenting on the José Berríos confidence, Minnesota manager Rocco Baldelli said,
"Confidence is real, and every single guy here needs it to succeed to be their best self and their best version of them on the field, José certainly had it."
The Minnesota Twins are looking to secure the AL Central title this season, and if successful, it will be their first since 2010. They began the night with a comfortable five game lead over Cleveland, who sits in second place. With a dozen games remaining and Minnesota sitting at 92-58, they already are garmented their best regular season finish since 2010.
MLB
Berríos, who was given an extra day of rest, only allowed five hits and two runs last night in just under eight innings. When leaving the mound, the crowds erupted in cheers and gave him a standing ovation. Speaking through a translator, Berríos said,
"Every outing I'm feeling better and better. My arm was feeling great today."
Berríos has pitched 188 1/3 innings this season, only four short of his career record last year. As a two-time All-Star, he has altered his pre-game routine to ensure he remains fresh and ready to go. Clearly, it is working as last night was only the fifth time this season he has pitched eight innings. Tyler Duffey relieved Berríos before Sergio Romo came in for the ninth. Romo gave up one run to Eloy Jiménez before getting the Twins final out and Chicago White Sox pitcher Taylor Rogers needed only eight pitches for ending the inning.
The Twins were playing the Sox after a weekend series against the Cleveland Indians. They began a stretch that will see them playing the White Sox, Kansas City and Detroit, the worst team in the majors. Reynaldo López, who pitched the first five innings for Chicago said he felt good on the mound but gave up nine hits and five runs. Speaking on the disappointing showing, López said,
"I was feeling good today. I missed quite a bit with first-pitch strikes, and that got me into some trouble."
Chicago took an early lead with a sacrifice fly by José Abreu and a homer by James McCann. However, the Twins tied the game after Nelson Cruz scored an RBI on the sacrifice fly by Jorge Polanco. Mitch Garver scored a double, and that put Minnesota ahead which was followed by a two run single by Luis Arraez in the sixth.
The Minnesota Twins will remain in Chicago for their second and third game in their series against the White Sox before heading to Kansas to take on the Royals on Friday, Saturday and Sunday. This last stretch will see them only having one day off before visiting Detroit for a three game series on the 24th,25th and 26th. Those wishing to place bets on the upcoming three game series will find multiple generous offers with leading sportsbooks such as Bet365. Register today and begin reaping the rewards this respected and celebrated bookmaker has to offer.