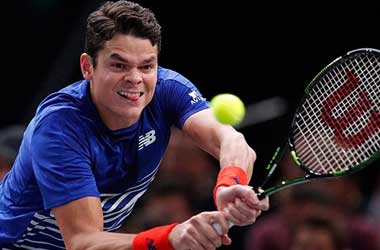 Canada's top tennis pro Milos Raonic currently holds the 12th spot on the ATP ranking. The 26 year old tennis pro ranked number 3 in November 2016 but has had a tough year in 2017 which has caused him to drop out of the top 10. One of the main reasons for his decline is due to the fact that he has had to battle injuries in 2017.
Raonic returned to play at the Japan Open this week after a 7 week absence and started his campaign off with a convincing win over Viktor Troicki whom he beat 6-3, 6-4. Raonic had taken a 7 week absence after he suffered an injury to his left wrist.
The hard serving Canadian has retired in two matches this year due to injury and dropped out of 5 events in 2017.
ATPWorldTour
After his win at the Japan Open, Raonic lashed out at the ATP tour and said that their bad scheduling were forcing players to play throughout the year and have very little rest between tournaments. Due to the excessive scheduling, players were breaking down due to injuries more frequently and struggling to recover and regain their form.
In a statement, Raonic said
It's been very frustrating. I've had more than a dozen different injuries and reasons that have kept me away from tournaments. That hasn't been fun because I haven't been able to focus on tennis, I've been focusing on "Can I play today or can't I?" rather than, "What do I need to do with my tennis game?"
The ATP came in for criticism based on how it arranged its tournaments in terms of geographic location, timing and length of each tournament. The ATP currently runs an eleven month season and concerns have been raised by both men and women tennis players. Raonic does make a good point because a number of top tennis pros have been injured this season including Novak Djokovic, Andy Murray and Stan Wawrinka.
Raonic wants the ATP to address their scheduling and put together a more compact season that runs for seven months. He also wants the ATP to give the top tennis players in the world a list of mandatory tournaments that they must play. This will enable them to use the off-season and the downtime to work on their fitness and be in better shape for the Grand Slams and other major tournaments.