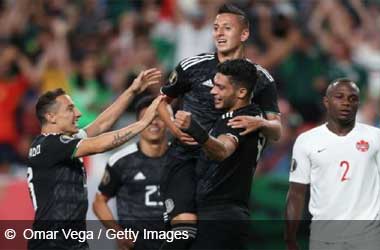 After Mexico won its first two matches to move into first place in Group A, its third match saw the South American country pitted against Canada, and after Andres Guardado scored twice in the second half, it was enough for the Mexicans to secure their third straight victory, that after midfielder Erick Gutierrez went out in the first half.
The next leg for Group A will head on Sunday to Charlotte, North. Carolina. That will see  playing in the first match against Cuba and Mexico will meet Martinique in the second match.
John Herdman, head coach for the Canadian Men's National Soccer Team, commented on the match against the Mexicans stating that it was a good test for the team that taught them a lot. Herdman added,
"We will have a very strong and fresh line up against Cuba ready to get the points we need to take us through to the quarterfinals."
Each of the top two teams from each pool will move on to the quarterfinals in late June. Martinique played the first match of the day on Wednesday defeating Cuba 3-0 and brought its match record to 1-1. However, the Cuban team has been all but decimated and found itself eliminated from the Gold Cup after the loss
Concacaf
Canada and Mexico played to a near full house on Wednesday. The first 30 minute of play was uneventful however that changed for Mexico after Erick Gutierrez went out due to a leg injury. Undeterred, it didn't take long for Mexico to move out front and take a 1-0 lead after Raul Jimenez took a shot that Canadian goalkeeper Milan Borjan saved only to watch Roberto Alvarado pick up the rebound sending the ball into the net.
Mexico's Raul Jimenez nearly put Mexico up 2-0 just before the halftime after he sent a blistering shot Milan Borjan only to see him swat the ball away. However, Mexico managed to score their second after Andres Guardado, who was sent in as a replacement for Gutierrez when he picked up a Canadian pass, took it to the box and sent a high shot into the top left corner of the net.
Canada's Jonathan David reduced Mexico's lead to 2-1 at the 75 minute mark after he took the ball away from Mexico's Nestor Araujo, passed it to Lucas Cavallini who sent a shot past Mexican goalkeeper Guillermo Ochoa. Captain of Team Canada, Atiba Hutchinson commented on the game stating,
"I thought we were organized as a team and were unfortunate to give up the first goal before half, which kind of opened things up. Toward the last 15-20 minutes we created more and we take a lot of positives for that."
Two minutes later, Guardado scored his second goal to put Mexico up 3-1 after his shot hit the foot of Canadian Doneil Henry and deflected into the goal.