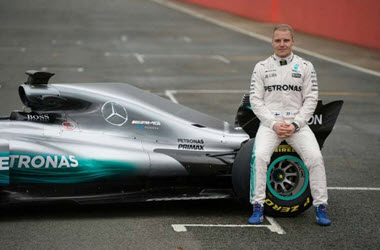 Valtteri Bottas, a Formula One driver for Mercedes has had his contract with the F1 giant extended by a year with the option for a second year. The announcement was made at German Grand Prix.
While the contract allows for a second year, that will be determined by Bottas performance over the course of this season and the 2019 season. The announcement came after Lewis Hamilton, a four-time Formula One Champion agreed to a 2-year contract. The announcement brings an end to the speculative discussions on both drivers but was not unexpected.
As the Formula One season approaches the half-way point, it sees Mercedes struggling to be the dominant team as it faces pressure from Ferrari's Sebastian Vettel. They are behind by twenty points in the constructors' title, and Vettel is ahead by eight points in the drivers' race with Ferrari's Lewis Hamilton in second.
Valtteri Bottas agreed that as a driver, he must continue to prove himself stating,
"We have a big battle on our hands right now, so it's good to have the future clear for everybody. It means we can have a full focus on the championship fight. My goal is to keep performing at a high level and to make it a no-brainer for the team when it comes to deciding their plans for 2020."
💬 "It meant a lot to me that the team opted for me and no-one else. Everyone wants to be in this seat." 👇 #GermanGPhttps://t.co/JC0Ry1auzD

— Mercedes-AMG F1 (@MercedesAMGF1) July 20, 2018
This season is the second year that Bottas has driven for Mercedes. Previously he drove for Team Williams agreeing to a one-year contract to replace Nico Rosberg after he retired without warning after winning the 2016 Formula Drivers Championship.
2017 saw Bottas winning three races, and that helped the driver earn another year to his contract, but ten races into the season, he has not won a race. He has performed well with four-second place finishes and is sitting in fifth in the drivers' standings.
One key difference to the team demographics is both Hamilton, and Bottas get along well, whereas Roseberg and Hamilton did not. For Toto Wolf, head of motorsport for Mercedes said that this is an important part of any team's success and that Toto Wolff says this is a factor that strengthens Bottas as the #2 driver for Mercedes.
Commenting, Wolff said,
"When we took the decision in favour of Valtteri for 2019, it wasn't just about his undoubted speed and work ethic, but also a question of character. His relationship with the team, including Lewis, is open and trusting, without any politics at all. Those are the ingredients you need when you're fighting strong rivals in both championships."
Bottas began his racing career in 2005 while driving in the 2005 Karting World Cup in Finland. After advancing from karting, he moved up to Junior formulae and won the Formula Renault Eurocup in 2008. His successes in Junior formulae saw the Finnish driver moving onto Formula 3. After winning the Masters of Formula 3 in 2009, and again winning in 2010 he entered the history books as the only driver to win this race twice.
With the Formula One season heating up and the race in both the driver and constructors standings now is the time for those wanting to place F1 bets to get in on the action. A favourite of Canadian F1 sports fans, Betway Sports is offering a 100$ bonus up to $200 when you register and place your bets. A highly reputable betting.ca partner, they include multiple sports betting options as well as multiple promotions for special events.