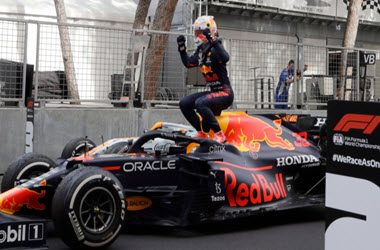 After a qualifying session that saw Lewis Hamilton dropping to seventh, and Charles Leclerc earning pole, only to exit before the start of the race with a gearbox problem, pole position went to Red Bull's Max Verstappen, who drove it home from beginning to end.
As the lights went green, Max Verstappen held off a hard charging Valtteri Bottas and went onto a dominating finish at the Monaco Grand Prix on Sunday. Verstappen managed to close the door for Bottas by maneuvering in front and blocking his chance of getting a leap on the Dutch driver.
The win was Verstappen's first ever win at Monaco and the first time he has ever been in the lead in his F1 driving career. This was Verstappen's second win of the 2021 season and his twelfth of his career.
With the win, Verstappen took over the drivers' championship lead putting Lewis Hamilton down into second. After crossing the finish line, Red Bull principal Christian Horner could be heard over the team radio congratulating Verstappen on the win, saying,
"That was master class and you're leading the championship. Well done, mate."
The historic win for the Dutchman was also the first time since 2018 that a Mercedes didn't lead an F1 race. The Mercedes was uncharacteristically unreliable all weekend, a track, known for offering few places to pass, the timing couldn't have been worse.
The weekend only got worse for Mercedes after Hamilton was pushed down to 7th on the starting grid. Their only remaining hope, Bottas, sat in the number two pole position. However, his race was short-lived after his pitstop resulted in early retirement from the race due to a right-front wheel stub axle getting stripped.
RaySports F1
After pulling into the winner's circle, Verstappen ran over to his team and into their arms to celebrate the occasion. Verstappen then met with tennis legend Serena Williams, who was the honorary guest who waved the checkered flag.
Verstappen, whose father was a successful F1 driver who raked up 106 races in his career, was a teammate of Michael Schumacher's when he driver for Benetton. That made the victory a special one for Verstappen, who post-race stated,
"It's so special around here to win. It's my first time on the podium here. I remember when I was very little, you always want to win this one."
In the last six races, Max Overstepped has racked up three victories and one second place finish. Sunday's race saw him finishing almost nine seconds again of second-place finisher Carlos Sainz Jr. of Scuderia Ferrari. For Sainz Jr, he felt the race was a good result adding,
"If you would've told me before coming to Monaco I would finish second, I definitely would take it."
Joining the top three podium finishers was Lando Norris, who got his third career podium finish. The timing for Norris was almost perfect after the Brit signed an extension to his contract with McLaren earlier in the week.
"I don't know what to say, it's a dream to be on the podium here. I didn't think it was going to happen. I'll cherish it."
Red Bull also had reason to celebrate after Sergio Perez finished fourth, helping to push Red Bull into first in the constructors' championship. The double whammy for Mercedes was not the results they had hoped for, especially after winning seven consecutive constructors' and drivers' championships.
Another driver who put in a solid performance was four-time drivers champion Sebastian Vettel. The German signed with Aston Martin this season gave them their best  of the season. While our Monaco Grand Prix 2021 Betting Preview & Latest Odds may not have predicted a strong showing for Vettel, we did predict Verstappen as one of the drivers to watch and one worth staking with top Canadian bookmaker and casinos.
The big story of the day was Charles Leclerc, who had to sit by and watch his efforts drain away during the warm-up lap after a gearbox problem. The pole position would have been his first of the season, but after crashing during qualifying and damaging his gearbox, Ferrari took the chance not to change the gearbox and take a five grid penalty, a strategy that failed.
Initially, Ferrari has given Leclerc the green light saying his gearbox was operating fine, but twenty minutes later, the race was over and was reminiscent of his first race at Monaco for Ferrari, a race he also has to retire from.
After Leclerc retired, the race director made the unusual position not to move Verstappen and the rest of the grid up one position. Instead, pole position was left empty, and that gave Bottas more room, but he wasn't given the room he needed after Verstappen closed the gap.
Also struggling after starting seventh was Lewis Hamilton, who struggled to get around traffic on the notoriously tight circuit. However, the Brit did manage to earn a point for the fastest lap and was able to finish in the top 10 to earn points for Mercedes.