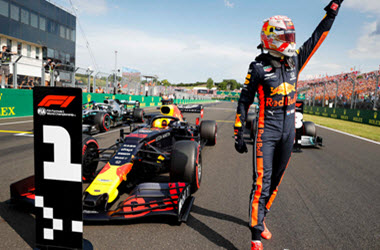 Max Verstappen earned his first ever pole position in Formula One on Saturday with a nearly perfect lap that saw the Belgian posting a time of 1.14.572 seconds. That time beat his previous best time earlier in the day of 1.14.958 seconds.
The pole was a big boost for Max Verstappen, who at 21 years of age, has won twice in the last three races and is now creeping up in the driver's points and contention for the world title. Valtteri Bottas took second place while his teammate, and defending champion, Lewis Hamilton took third. Commenting on his success today, Verstappen said,
"Big thanks to the team, the car was flying. This one was missing. … It was only a matter of time."
Currently, Lewis Hamilton has a healthy 63 point lead in the driver championship, but another win by Verstappen and that lead will drop unless Hamilton continues to place in the points. Last week's rain soaked race in Hockenheim saw Verstappen keeping his wits and had superior speed in Austria.
Sunday's race could be a defining moment in this season given that passing at Hungaroring is very difficult. Adding to the challenge Hamilton and Bottas will face is the fact that Verstappen is skilled behind the wheel and all his wins have come from starting behind the pole.
Very happy with my first P O L E! 💪 Big thanks to @redbullracing and @HondaRacingF1, for a perfect job and stunning car! 👍 #KeepPushing #HungarianGP pic.twitter.com/5shc2fs8nt

— Max Verstappen (@Max33Verstappen) August 3, 2019
Verstappen made history in F1 when at 18 he won his first Grand Prix in Spain, and his performance this year is already making the rounds as the one to watch to take over Hamilton's dominant role. Hamilton, who is chasing his 6th championship and has earned 88 pole positions in his career, seven of which came at Hungaroring. Commenting on Verstappen, Hamilton said,
"Max did a great job. It kind of got away from me, but we're still in the fight. There's a long run down to Turn 1, so it's going to be very interesting. It's not the easiest place to overtake, but strategy will come into it."
Charles Leclerc, another F1 driver to earn his pole this year, earned the fourth position with teammate Sebastian Vettel taking fifth. That almost didn't happen for Leclerc after spinning is the first quarter during qualifying, but he managed to avoid hitting the barrios and return to the track.
Red Bull's Pierre Gasly qualified in sixth and Lando Norris to the seventh position. Yet the day was not all smiles after Daniel Ricciardo was eliminated and will start in 18th, while Nico Hulkenberg also faced the same fate.
Ricciardo's departure from Red Bull in favour of driving for Renault was a sore point for the team, but one it seems is paying off for Red Bull after electing to go with Honda engines this year versus the Renaults. That was somewhat a risky move, but with Maclaren doing well with Honda engines, the choice was the most logical.
The reliability of the Honda engine cannot be doubted now that problems with it appear over. Verstappen pole was a first for Honda since 2006 when Jenson Button earned pole at the Australian Grand Prix, and the speeds speak for themselves, as they outpaced Mercedes and Ferrari.
The Hungarian Grand Prix is the perfect time for punters wishing to place bets as with only nine races left in the season. It will be a tight push to the end to see who takes the drivers championship. With top bookmakers like Sports Interaction offering favorable odds for both Verstappen and Hamilton, now is a great time to register and claim your welcome bonus.