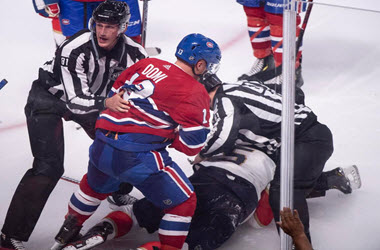 Max Domi was ejected from the third period after sucker punching Aaron Ekblad on Wednesday night Domi will meet the NHL department of player safety on Thursday to answer for his actions[/caption]The Montreal Canadiens and Florida Panthers are at odds after Max Domi was ejected from the third period of Wednesday after sucker punching Aaron Ekblad, and the NHL are not taking the matter lightly as Domi has now has an appointment with the department of player safety on Thursday.
Montreal was losing 2-1 as the third period got underway and it didn't take long for Domi to get into it with Ekblad, who showed little interest in fighting but Domi persisted, dropped his gloves and sucker punched Ekblad failed in the face.
Roberto Luongo, the goalie for the Florida Panthers was far from impressed and called the move gutless. Max Domi was handed a match penalty as a result of the sucker punch, one that left Ekblad bloodied. The Panthers went on to defeat the Canadiens 5-2 in the pre-season match-up.
At the league's request, Aaron Ekblad left the game and after undergoing tests to ensure that he did not suffer a concussion, he was cleared but did not return
Luongo, commented that he is confident that the league would review the incident and added that the Panthers will not forget it. He added that,
"You don't do that. You respect your opponents and if your opponent doesn't want to engage in a fight, there's no reason to drop your glove and punch him square in the face. Bit of a gutless play. You don't do those types of things."
Florida Panthers coach, Bob Boughner commented, in post-game interviews that,
" NHL Player Safety will review it. It's in their hands now. We had a delayed penalty and Ekblad was just trying to stay out of it. I didn't expect that he was going to drop his glove and sucker punch him."
Sportsnet
Mike Hoffman also was not pleased and feels that the Canadiens were possibly trying to show off or something as it is the pre-season and some want to make an impression.
As for Jonathan Drouin of the Canadiens, he said the team sees it different stating,
"The two were arguing with one another. I saw a pretty big slash from Ekblad on Max, and Max just took matters into his own hands. It's also Ekblad's fault for not protecting himself."
Montreal's coach added that "these are things that happen in a hockey game." After the third period got back underway, the Panthers Jared McCann scored Florida's third goal after a hard drive to the net. Two minutes later, McCann added another to make it 4-1 for the Panthers. With the net empty, and the clock ticking down, Nick Bjugstad sent the puck down the ice to make it 5-1.
As the NHL season kicks off, hockey punters are gearing up for another full season of intense hockey. The Panthers will be hoping to earn a spot in the playoffs this season, as are the Montreal Canadiens, and those wanting to get in futures early, now is the time to get it done. With a host of respected Canadian sports betting sites such as Spin Palace Sports, the opportunities for generous sign-up bonuses is superb. Sign-up today and get your bets in early before the regular season kicks off.