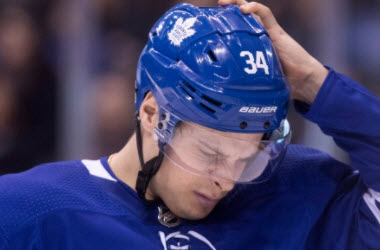 After sustaining an injury to his upper body, Austin Matthews joined his teammates on the ice for the first time on Wednesday for a 25 minute practise session. While easing in slowly, Matthews joined in on a few drills but did not go beyond that sitting out the line rush drills.
As expected, players suited up in either blue or white, but for Matthews, he wore red so as to be easily identified letting teammates that no contact is allowed due to medical staff concerns.
Media sources were all hot on following up on the star players status and condition questioning Babcock if Matthews would play tonight against the Pittsburgh Penguins.
Shaking his head, Coach Mike Babcock said,
"I don't know what they (medical staff) will do. I just noticed he was wearing red today and we don't have a whole lot of red in our uniforms."
While not ready to return to the active list, Matthews was able to get out and join in on some drills under the supervision of medical staff.
Toronto Maple Leafs
Babcock continued stating that this is the right thing to do for Matthews,
"Well, I think it's good for him, right. Just mentally, instead of hanging out by yourself. We were gone for 10 days and these are his buddies, so who do you hang out with in Toronto?"
Matthews was able to skate alone without assistance, but was monitored by Mike Ellis, a skill development consultant for the Toronto Maple Leafs. The good news is he also hit the ice alone for a little over 30 minutes for joining teammates for teams practise on Wednesdays.
For goaltender Frederik Andersen, who is a close friend of Matthews,
"It's difficult sometimes.You don't talk as much, because you don't see each other each day so it's a little different. But here and there we keep in touch and it's good to see him see back with us today."
Mitch Marner, another close teammate of Matthews also spent some time with him while he is recovering saying that he feels Matthews is happy to have the team back in Toronto.
Matthews is currently leading the Leafs in scored goals (28) this season, if he is unable to return for Saturday night's game, his next return date would not be until the 14th when Toronto hosts the Dallas Stars.
For Babcock, the objective is clear,
"The priority for him, obviously, is to do as much as he can each day and then when he's ready or over-ready we'll get him back in the lineup."
Currently, the Leafs schedule is relatively light, and that is good news for the team and Matthews as it affords the ability to return slowly and not rush back to the ice as soon as possible. Toronto will have three of the next six days offs, so timing is good.
The Leafs had arranged their schedule so as to give the team a bit of a break and time to regain energy.
"We planned this into our schedule to set it up so the guys could get recharged. We also feel we can get skating way better again as a group and that's a huge priority for us." Said Babcock.
The Leafs have failed to win a game in the previous four games, so the break is good timing. For Babcock, he feels the organisation had a good run for a while, but as everyone knows, good runs come to an end, and then the fight kicks in to fight your way back.
One thing is certain; Leafs fans are anxious to see Matthews back on the ice, as are hockey sports betting sites as Matthews being out for the count means less betting action from Leaf fans. Toronto will play the Penguins tonight at 7pmest.