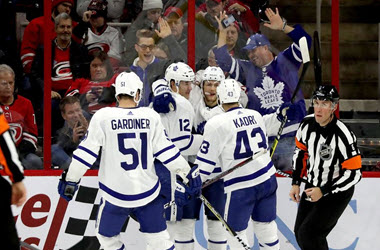 The Toronto Maple Leafs are back to full power with the signing of William Nylander, and after back to back losses to the Red Wings and Boston Bruins, the boys in blue rolled into North Carolina and ended their two game losing streak with a 4-1 win over the Carolina Hurricanes.
William Nylander is beginning to feel comfortable on the ice after a long down period and earned his first points of the season with two assists Morgan Reilly scored his 10th goal of the season, and also scoring for Toronto was Tyler Ennis, Patrick Marleau and John Tavares. Travis Dermott, Jake Gardiner, Frederik Gauthier, Nazem Kadri, Mitch Marner and Auston Matthews each earned an assist.
This was Toronto's third road game win in its last four, and their superior speed and skill showed as they dominated the opening period. Tyler Ennis was first to score for the Maple Leafs, and after the Carolina Hurricanes scored their only goal to tie the first period, Morgan Reilly needed just over a minute to regain the leads for the Leafs to end the second period 2-1.
Sportsnet
Morgan Reilly sent a perfectly executed pass in from of Carolinas net to Andreas Johnsson but was broken up by Dougie Hamilton who lost control resulting in the puck slipping past Carolina goalie Petr Mrazek. For Toronto fans, last night was good news and even more so for punters wanting to get the best odds for future games. Why not register with one of our leading Canadian sportsbooks and take advantage of the excellent signup bonuses. With the Maple Leafs having one of thier best seasons, you couldn;t pick a better time.
Toronto outshot the Hurricanes in the first period 13-3 with a constant push outperforming and skating Carolina. The saviour of the game for the Hurricanes, who are sitting 23rd overall in the standings, was Petr Mrazek who made some terrific saves even though he let past four.
Scoring for Carolina was Justin Williams and earning an assist was Sebastian Aho and Victor Rask. Williams denied Andersen a shutout after the Hurricanes went on a second period power play. Carolina had just returned from a three game road trip and are glad to be home after their charter plane was forced to make an emergency landing on route to North Carolina after their game in Anaheim.
Carolina is without is star centre, Jordan Staal, and went without their top scorer Michael Ferland after the first period. Mrazek made 25 saves for the night, but without the power to fight the talented younger Maple Leafs, it was not enough to earn back to back wins.
Toronto will now head to Tampa for a Wednesday night game against the Tampa Bay Lightning, and with both teams sitting at the top of the league, it will be interesting to see who comes against with a victory.