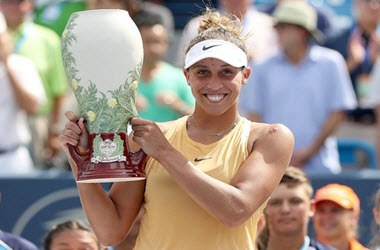 The Western & Southern Open women's final was one to remember after top-seeded Ashleigh Barty failed to advance in her semifinal match, one that saw Svetlana Kuznetsova heading into her second final in. However, hoping for a win, Kuznetsova watched a late rally from Madison Keys and had to once again settle for the runner up position.
Winning the first and second set, Madison Keys won her first Western & Southern Open champion 7-5, 7-6 over Svetlana Kuznetsova, and it was a career-high moment for the American player. Commenting to the crowd post-match, Keys said,
"If you told me this is where I would be a week ago, I would have laughed in your face!"
However, it was exactly where Madison Keys found herself and now sits in the top 10 ranked women layers in the world, a nice position to be in heading into the U.S. Open. Keys managed to fall behind in both the first and second but pulled off late rallies in both to win the first set 7-5 and the second 7-6. It was her second title of the year and little doubt, her biggest, and a solid confidence booster going into the U.S. Open.
WTA
This was a tournament that saw a number of upsets, one of which was Serena Williams dropping out after experiencing back spasms during the final at the Rogers Cup. Another saw Naomi Osaka withdrawing from the semis due to an issue with her left knee. The win today increased Madison Keys world ranking to 10th. The win and the fact she made it to the finals was a surprise too many, including tennis bookmakers who put odds on tennis events such as the Western & Southern Open as Keys has failed to advance past the second round in her last three tournaments. Commenting, Keys said,
"It's definitely a great building block. I want to do well in New York and have a good end to the season."
At 34, Kuznetsova, who at the age of 34, became the oldest female player in history to play the final at the Western & Southern Open. She managed to overcome three top 10 seeded players to earn her place in the final, including Sloane Stephens, Karolina Pliskova and Ashleigh Barty. Ranked 153rd, Kuznetsova was late starting this season as she was still recovering from an injury to her knee. It was her ninth tournament of the season and her best finish in two years. Commenting, Kuznetsova said,
"Honestly, I didn't expect to be so good at this tournament."
The WTA Tour now heads to Flushing Meadows in New York for the U.S. Open, one of the top tournaments of the year, it ranks equally with the French Open and Wimbledon. It expected that all top-seeded players, both on the women's and men's side will attend, but as history, as shown, picking a dead ringer to win is not an easy task. New punters can take advantage of this by registering with top-rated Canadian sportsbooks such as bet365, a sportsbook known for offering WTA tennis action.