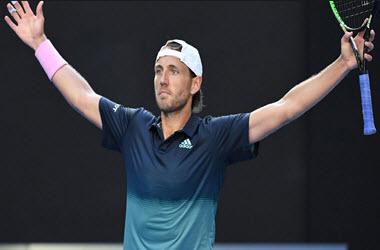 Lucas Pouille has finally contoured the demon that was the Australian Open after defeating Milos Raonic in the quarterfinals and switching to coach Amelie Mauresmo has been an instrumental part of his success.
This is the first time in his career that Lucas Pouille, ranked 31st, has made it to the semifinals in a Grand Slam tournament. The 24 year old Pouille will now face a steep challenge ahead when he plays Novak Djokovic in the semifinals on Thursday.
Djokovic, who is hoping to win his 7th Australian Open title, won his quarterfinal match against Kei Nishikori after the Japanese retired due to an injury to his leg less than an hour into the match. That put Djokovic into first Australian Open semifinal since 2016. His last time he made it this far he won the final earning his fifth Australian Open.
Djokovic commented that it feels great and that to date, this year's tournament has been his most successful. He added,
"Past two years have been a bit tough with the elbow injury and everything. Over the past ten years, I've had plenty of success here. Everyone tries to get their hands on one of the four biggest titles in sport, but Australia has been really kind to me."
Austrailian Open TV
Pouille, who has lost the first set in each of his previous five Australian Open's has expressed doubt on how far he will make it stating,
"I didn't win a match in Melbourne before. Now I'm in the semifinals. So just very, very happy."
The French-born Pouille manage to stop a hard driving Raonic and former Wimbledon winner 7-6 (4), 6-3, 6-7, 6-4 to earn the win. This is his first quarterfinal win having failed in two previous attempts and his first win against Raonic. His coach, Amelie Mauresmo, who played professionally before turning to coaching won then 2006 Australian women's title. Pouille credits Mauresmo for quickly working out how his game could be improved, and that has given him confidence. Pouille stated that Mauresmo has the right state of mind adding,
"She knows everything about tennis. It's not about being a woman or a man. It doesn't matter. You just have to know what you're doing — and she does."
There were people who were critical of Andy Murray for hiring Mauresmo due to the fact he hired a female coach, and Pouille has experienced the same but brushes. Commenting on the exist negativity, Pouille said,
"I think times changed. It's a shame that it happened. Men are coaching women, so why not the contrary? She's a champion. She's a great coach."
Pouille went up two sets and managed several break points in the third set before Raonic became angry over officials challenging a line judge. The frustration continued after he felt he deserved the point, but a review of the play confirmed the call was correct. Raonic has not has great success at the Australian Open. Having twice made it to the quarterfinals in Melbourne, he has failed to advance to the semis. His disappointment came through in off-0court interviews where Raonic stated,
"It's not so much only the opponent you're facing, but it's also the situation, which is a completely new one for him. I think he has to stay true to himself, try to do the things he does well, really focus on that aspect more than anything else."
The semifinals will get underway starting Thursday with the Men's final on Sunday. Punters wanting to place wagers are recommended to visit our top-rated tennis betting sites such as Bet365, a leading U.K based online sportsbook offering up to $200 to newly register members making this first deposit. Sign up today to take advantage of this offer!