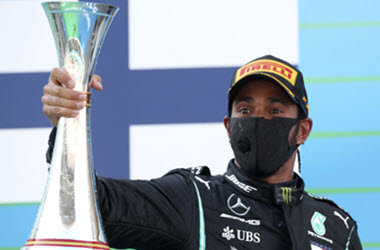 After earning his 100th career pole position in Formula 1, the Spanish Grand Prix proved to be a little more than Lewis Hamilton anticipated. While Hamilton started at the front grid position, it wasn't long before he saw the backend of Max Verstappen after his rival too the inside line going into the first corner and quickly overtook him to take the lead.
The move gave Verstappen the chance to distance himself from Lewis and remain out front as the two duelled for the lead. However, the superior one pit stop race strategy employed by Mercedes paid off and ultimately led to fresher tires in the final laps giving Hamilton the edge he needed to retake the lead and earn the win.
"Red Bull got a great start. I was hunting…It was a long way to come back from, 20-odd seconds back. But it was a good gamble."
Sunday's win was Hamilton's 98th, and it also was another career highlight that saw the Brit tying Michael Schumacher's record of six Spanish Grand Prix victories. The win also put Hamilton 14 points ahead of Max Verstappen in the drivers' standings.
When the lights went green, Verstappen managed to jump out ahead of Hamilton as they sped into the first corner, and it was enough to give him the inside line as they went in side-by-side before Hamilton had to back off and unwavering Verstappen.
However, Mercedes opted for a two stop strategy, as did Red Bull went with two, and that proved fatal when on lap 25, Verstappen had to stop for fresh tires three laps sooner than Hamilton, giving them the advantage of fresher tired in the closing laps.
While initially, Mercedes had planned on a one-stop strategy, Red Bull's performance had the team switch to a two-stop strategy bringing in Hamilton on lap 28 for fresh tires. When he re-entered the race, Hamilton was advised he was behind by 20 seconds, a feat not easily overcome.
Red Bull has seen a substantial improvement in engine performance in the last two seasons, and with the construction of a new facility dedicated to engine development and production, Red Bull are poised to uncrown Mercedes in 2023
Sky Sports F1
Yet, while engine performance is a deciding  factor, it was the fresher tire of the Mercedes and was the game changer, and it wasn't long before Verstappen radioed his team saying he didn't think he could hold off Hamilton much longer, and he was right. With Hamilton on his tail, he watched as the Mercedes passed and took over the number 1 position.
After passing the finishing line, Hamilton was overheard on the team radio saying, "Great job with the strategy", while Verstappen was heard saying, "It is what it is. It is impossible to keep him behind."
One of the more popular races on the circuit, it generally sees over 90,000 fans in attendance, but health restrictions saw that number dwindle to 1,000. For Spaniard Fernando Alonso, the fans that came out were appreciated. Commenting, Alonso stated,
"There are a thousand here, but we know there are hundreds of thousands watching from home and we hope we can have them back soon."
Next up on the F1 schedule is the Grand Prix de Monaco. Respected as one of the hardest circuits to execute passes, results are often determined by the starting grid positions and race strategies. After Monaco, teams will head to Baku City for the Azerbaijan Grand Prix and then to Istanbul for the Turkish Grand Prix.
Similar to Betting.ca's predictions for the Bahrain and Emilia Romagna Grand Prix, our picks for Lewis Hamilton to take the checkered flag have proven correct. Resultantly, bookmakers such as Spreads.ca and 888Sport are all vying for attention with Canadian punters. With the F1 schedule in full swing, now is an opportune time to jump on the bandwagon and take advantage of their latest new player offers.
Unfortunately for Canadian F1 fans, the Canadian GP at the famed Circuit Gilles Villeneuve has been cancelled for a second year in a row by Canadian officials due to the ongoing battle against COVID-19. While disappointing, race fans can look forward to a two year extension that will see the Canadian GP remain a fixture on the F1 circuit until 2031.