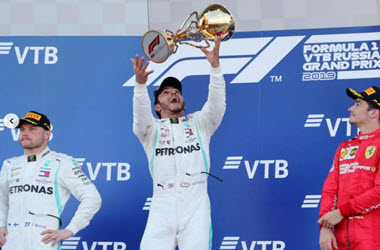 After a week where Lewis Hamilton stated Mercedes would struggle to catch Ferrari on the straights, Hamilton earned his fifth back-to-back victory at the Russian Grand Prix with teammate Valtteri Bottas following behind in second place.
The win extends the lead by Lewis Hamilton in the driver's championship as he fights to win his sixth World Championship. Ferrari was out front looking like they would earn their own one-two finish but within a few laps watched as Vettel's car broke down and Leclerc fell to third. After the race Hamilton could be heard on the team radio saying,
"What an effort, guys. What an incredible job. That is exactly what we needed. We never give up."
The one-two finish meant that Mercedes earned the maximum number of points possible and put Hamilton ahead by 73 points and almost guaranteeing the championship as there are only five races remaining and a possible 130 points remaining.
Leclerc, who has won twice in the last three races, sits 107 points behind Hamilton and would need to win all remaining races. He would also need Hamilton not to finish in the top five for the remaining races, a near impossibility. Finishing in fourth and ahead of teammate Alex Albon was Max Verstappen.
While many felt Ferrari would dominate on Sunday, Betting.ca's F1 analyst predicted another win by Hamilton. The British driver has won all five F1 races at the Sochi Autodrom and was no surprise for betting experts with sportsbooks like 888Sport that he continued to push forward, even while facing the faster Ferraris. Those wishing to get the latest race results and odds for the Japenese Grand Prix
💬 "It's been a while since we last had a 1-2 and it feels really good to stand up there on the podium together again. It's really encouraging and motivating for the entire team."

More from Valtteri 👉 https://t.co/vpHrRiUzst #RussianGP pic.twitter.com/xuuOCxxdct

— Mercedes-AMG F1 (@MercedesAMGF1) September 29, 2019
Ferrari's race tactics seemed flawed from the start after a pre-arrangement was put in place that would have Leclerc conceding to Vettel at the start of the race if he managed to get ahead during the race to the first corner, and that is exactly what happened. However, Leclerc wanted those roles switched and ordered Vettel to concede to Leclerc and let him pass, an order that Vettel refused to follow. That resulted in Leclerc being overheard on the team radio stating,
"You put me behind, and I respected everything, we will talk later."
It was the recipe that almost never ends well with Ferrari once again ordering Vettel to let his teammate pass and once again Vettel refused to let Leclerc pass worried that in doing so would then face a challenge from Hamilton, who sat in third place.
Ferrari chose to pit Leclerc on lap 22 and that left Vettel out for another lap with old tires and also saw Leclerc recording faster laps with fresh tires. Vettel was called into the pits on lap 26, and by then, it seemed the writing was on the wall as he reentered the track behind Leclerc and moment later, his engine gave out.
That saw the race going yellow, and the safety car deployed slowing the field down and allowing Hamilton a free stop for fresh tires, and as the race went green, Hamilton took over the lead. The safety car was deployed a second time after William's driver George Russell crashed. That resulted in Ferrari pitting Leclerc with hopes of regaining the lead, but instead, it resulted in the Frenchman dropping down to third behind Bottas.
Hamilton managed to build a respectable lead over his teammate as he crossed the finish line nearly 4 seconds ahead. Commenting on the one-two finish, Hamilton said,
"It is incredible to have this result considering how quick Ferrari were off the start. To keep up with them was an incredibly hard task."
When asked post-race about the probability that he would win his sixth driver's title, Hamilton said,
"I try not to think about the championship and take it one race at a time. We don't want to stumble. It feels like a long time coming, but the first time, too, so that is why this win is special."
Leclerc, who has had several incidents where it seemed he was upset with how Ferrari managed the races once again refused to blame the team or Vettel simply stating,
"I will always trust the team, but the tactic was me giving the slipstream and for us to be one-two, which happened, but then I don't know. I need to speak to the team to know the situation better."