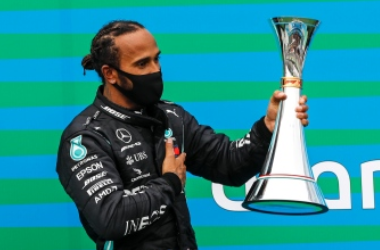 Lewis Hamilton continues to break records after winning the Hungarian Grand Prix on Sunday in Budapest, Hungary. The win put the six time F1 champion into first place of the driver's championship, it also earned him his eighth win at the track to tie Michael Schumacher's record.
Max Verstappen was able to hang on for a second place finish, while Canadian Lance Stroll, who was trying to earn his second podium finish in F1 fell short and had to settle for fourth, behind Valtteri Bottas. Hamilton cruised to victory with a comfortable 9 second lead over Verstappen. It was Hamilton's 86th win in Formula 1 putting him only five behind the record held by Schumacher's 91.
Michael Schumacher earned the distinction as the only driver to win eight times at a single track did so at the French Grand Prix eight times. Whether Lewis Hamilton will be able to surpass Schumacher's record will depend on whether he signs a new contract with Mercedes and if he can pull off a ninth victory. Speaking to the media post-race on his achievement, Hamilton stated,
"We've just been on point through the whole weekend. While I was on my own for the race it was a different kind of challenge."
F1 Racing
Bottas was able to make a clean start but was quickly overtaken by Lance Stroll who had started third. Verstappen's Red Bull team were in a rush to get his car ready for the start of the race after it was damaged during the warmup lap. Speaking on the incident and the teams jumping into action, Verstappen stated,
"The mechanics did an amazing job. I don't know how they did it but they were incredible … Just on time, to be able to split the two Mercedes cars was great for us. I thought I was not going to race so to be second was like a victory today."
Ferrari seemed to struggle all weekend and race day was not without continued problems after watching Lewis Hamilton lapping both Ferrari's. Finishing in fifth was Red Bull's Alexander Albon, while Sebastian Vettel took sixth.
With Formula One set to arrive at Silverstone in August and the Spanish Grand Prix a week later, pundits are placing strong odds for another championship win for Hamilton. With up to $200 in sign up bonuses up for grabs, the timing couldn't be better.
Prior the race getting started, most drivers once again went down on one knee as a show of force against racism. Yet, while controversial to some, most stand committed, as does F1 towards ending racism in racing.
It didn't take long after the start of the race for rain to begin causing the track to get slick. That resulted in a flurry of drivers heading into the pits for tire changes, but for Hamilton, it had little impact after setting a blistering pace that saw him with an eight second lead only six laps into the race.
While Bottas needed eleven laps before he could get past the Ferrari's, Team Hass was first to call in its drivers, Kevin Magnussen and Romain Grosjean and that put them into the leaderboard, a surprise that most did not expect.
By the midway point, Lewis Hamilton had extended his lead over second place Verstappen by 20 seconds. Bottas managed to get third pass place Lance Stroll after they switched back to slicks. Once past, Bottas set his sights on catching Max Verstappen and managed to pull with a half second of the Dutch driver but was unable to unnerve him. With 20 laps remaining, Bottas opted to go in for a tire change, but it was not enough. Speaking to the media, Bottas said,
"It was a really bad race for me to be honest. I lost it at the start, a light on my dash(board) went off. I don't know what it was. I lost places and it made the race very difficult (and) it was very difficult with Max."