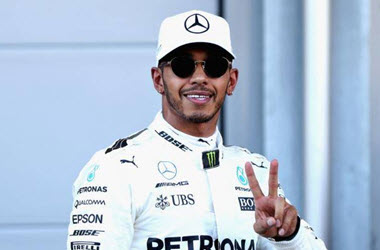 After a blistering practice session, Lewis Hamilton pulled ahead during qualifying edging out both Red Bull Racing's Sergio Perez and Max Verstappen to earn pole position for the Emilia Romagna GP on Saturday.
The pole put Hamilton, a seven-time world champion, one away from recording his 100th pole career pole. While the Mercedes once again outperformed Red Bull, Hamilton will have to contend with Sergio Perez and Verstappen in the number two and three positions.
Charles Leclerc managed to make improvements for Ferrari and took the number 4 position, while Pierre Gasly, Daniel Riccardo, Lando Norris, Velletri Bottas, Esteban Ocon and Canadian Lance Stroll make up the remainder of the top 10 grid positions.
While the practice season on Saturday was red flagged after Nicholas Latifi went off at the Villeneuve chicane and crashed into the barriers, Hamilton set the pace with a blistering lap put him 0.35 seconds ahead of Sergio Perez.
Hamilton, who acknowledged Perez would be his biggest competition, didn't expect to take pole at Emilia Romagna, stating post-qualifying,
"I didn't expect to be ahead of two Red Bulls, they've been so quick this weekend. The car is feeling much better, I want to thank the team for their hard work. I love the challenge, having two Red Bulls will definitely make strategy harder."
Spin The Wheels
The Imola circuit is well-known for being one the harder circuits for overtaking. For Hamilton, he will have the advantage of not dealing with traffic as he pushes for his second back-to-back victory of the season. While Perez will be on the front row, the Mexican driver was disappointed with his qualifying session stating,
"I didn't expect to be here but I should have been on pole. I did a mistake on my final corner, but tomorrow is what matters. Anything can happen, we are on a different strategy to Lewis and Max. It is going to be interesting, see what we can do."
After Hamilton took pole, teammate Valtteri Bottas managed to improve his position to eighth, but at .487 slower than Hamilton, it was not enough to get into the top five. The day was also disappointing for McLaren's Lando Norris after pulling off a specular lap that would have earned him pole only to see his time was disqualified after exceeding track limits at the Piratella turn.
Norris, in his second season, as an F1 driver, was the third fastest card sitting just behind Hamilton and Bottas. Charles Leclerc managed an encouraging fourth place grid position, although teammate Carloz Sainz failed to make it into the final qualifying session and had to settle for 11th position.
The qualifying session was not without disappointment for AlphaTauri's Yuki Tsunoda after he crashed, resulting in qualifying being stopped. Also eliminated from Q1 qualifying was Nikita Mazepin, Mick Schumacher, Antonio Giovinazzi and Kimi Raikkonen.
Sebastian Vettel, who had posted the fastest time during practice, ended up eliminated in Q2. George Russell, Fernando Alonso, Carlos Sainz and Nicholas Latifi were eliminated in Q2. With the race set to start on Sunday, punters have plenty of time to prepare for the Emilia Romagna GP, and can gain some insight into the top runners by reading our Emilia Romagna Grand Prix 2021 Betting Preview & Latest Odds. Moreover, with Canadian friendly sportsbooks vying for their attention, some great promos are up for grabs.
As for Mercedes, after leading the practice sessions, it will be interesting to see how the due of Perez and Verstappen perform at the start of the race. If they get the jump on Hamilton, he could face an uphill battle to regain the lead and win his second of the season.