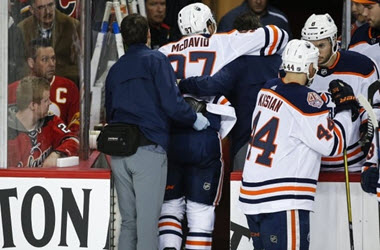 Connor McDavid had a feeling the injury to his leg was worse than it was after crashing into the net and then heading off the ice during the last regular season game for Edmonton on Saturday night against the Calgary Flames.
McDavid and the Oilers, however, are lucky and while the season was bad, losing their captain would have been worse after reports came back that McDavid would be ok after X-rays showed the leg was not broken. Connor McDavid slammed into the post after Mark Giordano tripped him while shooting across the net. The Oilers captain was slated for an MRI on Sunday to further investigate any possible damage. However, those results will not be available for several days.
McDavid commented that while sitting on the ice, he thought his leg was in two pieces. The star forward, who spoke to reporters with a knee brace added,
"Thankfully, the bone is OK. Thankfully, I was able to get up and with a lot of help I was able to get off. Like I said, we still don't know too much, but things look fairly positive right now, but we haven't had a picture in there."
The Edmonton Oilers once again have failed to make the playoffs for the twelve time in thirteen years. As the off-season begins, Edmonton fired its general manager and head coach in hopes of making major changes in its operations. The addition of its star player out with a serious injury would not have helped matters Adding to his comments, McDavid lamented on why he chose to rush the net knowing they had failed to make the playoffs stated,
"They pay me $100 million to play my game. Part of my game is beating guys wide and going to the net. I'll have to give my money back if I top doing that. I'm not doing that."
On the 20th, the Oilers organisation terminated Coach Todd McLellan, and on the 23rd, GM Peter Chiarelli was let go. That leaves a big job ahead for Bob Nicholson, the CEO of the Oilers to re-shape the organization and improve its record, which this year was a dismal 35-38-9, and that is after both Leon Draisaitl and Connor McDavid having big seasons. Commenting on the season, Draisaitl, who scored 50 goals this year stated,
"It sucks. Obviously, you go into every season trying to make the playoffs, trying to win the Stanley Cup. That's why you play. When you kind of get that taken away from you, due to our play, it's no one's fault but ours, it's frustrating and, yeah, it sucks, but we have to figure this out. We have to be better as players."
"It starts right away, as soon as the general manager is in place. We have to make sure that we're getting that out in front of everyone." #Oilers CEO & Vice Chair Bob Nicholson emphasizes transparency during the GM hiring process. https://t.co/7EkomrHgrG

— Edmonton Oilers (@EdmontonOilers) April 8, 2019
Edmonton replaced Todd McLellan with Ken Hitchcock, and assistant GM Keith Gretzky took over the general manager's position for the time being. Hitchcock, who is on a two-year consulting position with the franchise after assuming it from the Dallas Stars, but history dictates that the new general manager will select the coach.
While Gretzky, who Chiarelli hired, will be given strong consideration as the replacement, it has been stated by Bob Nicholson that they will undergo an extensive search for candidates. For Hitchcock, he commented that the changes have invigorated him and added,
"I've never experienced anything like this in my life where you're on every day, all the time, and I really enjoyed it. It's 100 per cent in someone else's hands. There's a president and general manager, they're the guys that make the decisions. Not me. That's up to them. I'm just telling you how much I enjoyed it."
McDavid, who completed his fourth year with the Oiler did so with a 116 point career high season. He made mention of his frustration after being eliminated from the playoffs in their loss to the Vegas Knights on the 1st of April and commented that the year, in general, was frustrating adding,
"This year is frustrating. A lot has already been made about what I said in Vegas, but I'd be a complete loser if I wasn't frustrated. You know, it's frustrating personally. It's frustrating as a group. You want to be in the playoffs. You want to be competing late in the season, but that's not where we're at, so we've got some stuff to figure out, like I said."
The reality is big changes are needed if the Oilers hope to have a better season next year. That is even with Draisaitl and McDavid having big seasons, and Darnell Nurse and Ryan Nugent-Hopkins also being big contributors to the success they did have. Speaking towards next season and what they plan to do, McDavid said,
"We're going to get it right. I know Bob (Nicholson) is on a mission to right the ship here and I'm confident he will. I want to be here. If I didn't want to be here, I wouldn't have signed an eight-year deal. I love the guys and the city. There's obviously going to be changes both on and off the ice. That's just the facts of it. I'm here to be part of the solution. That's that."
The post-season is slated to begin next week, and while fans of the Edmonton Oilers will be disappointed, those with a love of hockey betting still have some excellent opportunities and will find online sportsbooks such as Bet365 offering a wide assortment of promotions for the upcoming playoffs including a $200 signup bonus for newly depositing punters. Register today and prepare in advance for the upcoming playoffs!