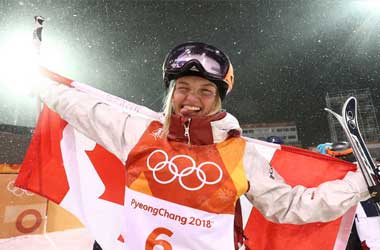 Canadian Justine Dufour-Lapointe, who competes as a freestyle skier took silver on Sunday during the Women's mogul's finals in Pyeongchang, South Korea. For Dufour-Lapointe, who won gold in the same event in Sochi four years ago, this year has been a tough one.
After the medal ceremony, Dufour-Lapointe gave credit to her family for providing her the strength to once compete in this Olympics saying,
"It was really a tough year so for me this medal means so much. 'This medal means so much'
It was Perrine Lafont, competing for France, entered the history books as the first French athlete to win gold in moguls. Bronze went to Kazakhstan's Yulia Galysheva, a first medal for the country in the mogul competition and the eight medal for the country since it began competing as an independent country after the Soviet Union break-up.
The finals saw three others from Canada competing, one of whom was Justine Dufour-Lapointe sister, Chloé who placed 17th place after she failed to make the final 12. Ninth place went to Audrey Robichaud and Canada's Andi Naude, who made it to the final six, failed to finish due to missing a gate during her final run. Naude, after the race, stated that her result was not ideal but was proud of representing Canada. The Canadian men are also expected to see a solid performance with Max Parrot qualifying for the final on Friday.
Men's Hockey Team All About Chemistry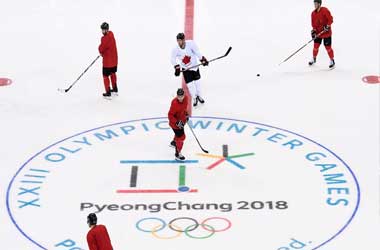 The Canadian men's hockey team is preparing for their time in the spotlight in Pyeongchang by building chemistry on the team. Many of the team's players are familiar with each other having come up in the ranks together.
The management and coaching staff have been pushing the importance of chemistry when playing in high profile tournaments such as the Olympic Winter Games. They understand that everyone on the team needs to share the philosophy and the roles each plays on the team. Coaches are showing players stats that support that those who are established NHL's have forgone ice time in favour of the team being first so that success can be achieved.
Said General Manager Sean Burke,
"What it comes down to at the end of the day is trust, you want your guys to know each other as quickly as they can and believe in each other so when they step on the ice they trust each other."
It is that principal and mindset that saw Chay Genoway, who played on the 2014 gold medal team, reached out to Jonathon Toews as both hail from Manitoba to bring home the point that it was a team effort.
That point was supported by Burke who said,
"Everybody has to do their part and sometimes that part is not what their normal part is, they've got to take on a different role. When you hear it from Jonathan Toews, when you hear it from guys who are the top player on their own team, and then they join the Olympic team and kill penalties or block shots, do things that is not necessarily their role, it hits home."
That important of team building has been a large focus for Team Canada as they have only had two practice sessions at the Guangneng Hockey Arena in Pyeongchang. Focusing on moving the puck and on breakouts, and closing with a shootout to give some lightheartedness making those who failed to score hit the ice for some push up's.
Wojtek Wolski was taunted by goaltender Ben Scrivens who yelled out that he knew his move before he made his way towards the net, and it turned out that Scrivens was on the mark stopping the forward hand attempt by Wolski.
For his part, Scrivens said,
"We were talking about shootout moves yesterday, so it was fresh. He actually almost had me on that one. It's more trash talk than anything. He's got a lot of tricks in his bag. He's a good player, and he can put the puck in the net. You've got to try to get whatever edge you can."
To add to the drive for chemistry, team management has carried out team bonding events and had motivational speakers come in and speak to the team. The hope is that Canada will bring home gold once again in Pyeongchang, South Korea and that those on the team will get the most of their Olympic experience.
Of course, being that Canada is always one of those to watch during the Olympics, it is expected sportsbetting sites will be focused on the team and Olympic hockey in general. Bettors will have many opportunities over the Olympics to place their bets, support their teams and feel a sense of pride if their home team brings home a medal.