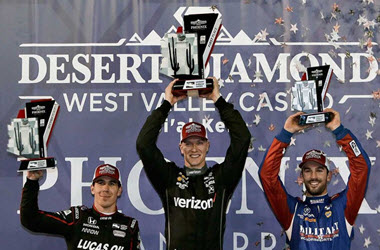 IndyCar made its annual stop in Phoenix this week at the ISM Raceway, and as race weekend got underway, it saw upsets and celebrations. Sebastian Bourdais earned the pole position and was dominate in speeds during his two-lap average, but when the race got underway, it was Josef Newgarden who saw the checkered flag.
NewGarden was chasing rookie driver Robert Wickens with eight laps remaining but needed only four to catch and pass the rookie. After stopping for new tires during a caution, NewGarden was easily able to take the lead and earn a first-place finish.
Commenting on the choice to pit under caution, NewGarden said,
"You never know if you make the right call, but they did. It was good we were on the offence."
Newgarden started fourth on the restart, and got around Wickens with 3 1/2 laps to go on the 1.022-mile oval. The defending series champion raced to his eighth IndyCar victory and third on an oval, finishing 2.994 seconds ahead of Wickens.
NewGarden said he was patient adding,
"I wasn't forcing it. I struggled with the balance in certain parts of the stint. We were just working on the car. The engineers were doing a really good job getting it back and I knew when it was time to be aggressive."
Team owner, Roger Penske saw the team earning this ninth victory at the ISM Raceway and are now two wins away from 200 wins overall in IndyCar.
IndyCar
For NewGarden, the win was a shining moment for both driver and team stating,
"It's a Team Penske win tonight, I'll tell you that, it wasn't me. This was a team effort tonight that got it done. … They gave me the pit stops. They had the strategy. I was working with a rocket scientist on the pit stand."
Rookie Robert Wickens, who drives for Schmidt Peterson Motorsports., was only in his second start of his IndyCar career and was driving his first oval. Hailing from Guelph, Ontario, but resides in Monaco, made comments that he felt he may have been setting the car a little high but never imagined his first two races would be as good as they were.
After finishing on the podium in second, Wickens said,
"I feel like I'm setting the bar a little bit high for myself, but I never would have expected the first two races to go as well as they did."
Wickens first race saw him leading the race and on his way to an inaugural first race win until the race saw two cautions that put Rossi in a position to challenge for the lead. As Rossi came up beside Wickens, contact was made, and the result saw Wickens spinning out, and with Sebastien Bourdais in third, he brought it home and earned the win.
Rossi earned a third place finish, which after being penalized with a drive through penalty for contact with a crew member and considering his encounter with Wickens, was as best as he could hope for. Commenting, he said,
"It was at that point kind of up to me to try to dig us out of it. I was really hoping we would get a yellow to unlap ourselves. We never did. To be in the position that we were with 10 laps to go was a blessing and a huge shout out to the whole crew and the car they gave me."
Scott Dixon finished fourth and James Hinchcliffe earned a fifth place finish to give Honda all top five spots for the race. The next stop in the IndyCar circuit will see the teams heading to Long Beach, California for the Toyota Grand Prix of Long Beach. As the IndyCar season heats up, many eyes will be on Sebastian Bourdais to be near the top of the points standings and many sports betting sites that offer odds on IndyCar are expected to favour the experienced driver. Time will tell how things will play out but with a first race win, Bourdais is looking strong going into the season.