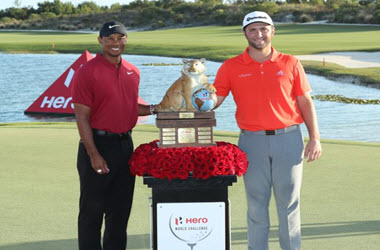 Sunday proved to be a day John Rahm will not forget after winning the Hero World Challenge in the Bahamas. It was his final tournament of the year, and next to beating Tiger Woods at this year's Ryder Cup, few others have been as good.
Rahm was facing a potential shootout in the final round but went on a push during the back nine to runaway with the lead and eventual win. This is Rahm's second year as a pro on the tour and in each year, has had three victories, not bad for someone who many still consider a rookie.
Rahm spoke to the media after being crowned champion saying,
"I hope I keep winning three times every year," Rahm said. "Still wouldn't get to what Tiger's done in 20 years, but it would be pretty impressive."
Rahm began the final round  of the Hero World Challenge tied with Henrik Stenson and Tony Finau. Taking an early challenger position, Finua fell behind after a double-bogey on the 14th hole. Rahm scored a birdie on the same hole and went into the lead by five shots, and thereafter, he made it look easy.
As he played his final hole, Rahm finished with 7 under 65 and a four-shot lead. Commenting on Rahm's win, and his chances, Tony Finau said,
"Even if I make a 4 there, I'm going to have to do something pretty dang special. Hats off to Jon this week. He played incredible golf, and he deserved to win this week."
PGA
Tiger Woods was back in the field and only made an appearance to hand Rahm his trophy. Tiger had a rough start earlier in the day but was able to rally back to finish 1 over 73 and 17th overall. That was a poor performance for Woods, and it could be seen in his comments.
"Overall, it was a long week, but one that I hope the players enjoyed."
While Woods, who was the acting tournament host may not have given fans the Tiger they hoped for, the final round was full of activity.In post-round interviews, Rahm recalled an interview he saw of Woods after he took the lead in the British Open and never looked back. Commuting on that and how he stayed focused after taking the lead, Rahm said,
"That's the same thing I thought today. As soon as I got in the lead, my mind was still forward. Keep doing birdies and just keep going on. I didn't know what kind of a lead I had until I got to 16, and I was still rifling at the pin."
While the day was about Rahm, he paid tribute to Woods by recalling a time he ran into Tiger prior to the Tour Championship at East Lake. That turned out to be Woods 80's PGA career win, and being that Rahms grew up on the poa annua greens, he wasn't feeling that comfortable about Bermuda and spoke to Tiger for advice. Rahms stated that Tiger said,
"He kind of laughed and told me it's all about feel. I was like, 'OK, whatever, right.' And today out there with the trophy, he was like, 'That's a pretty good performance for somebody who can't put putt on Bermuda greens.' I think I made one putt outside 10 feet. I didn't miss a shot the last three days, it's as simple as that. But I don't think he believed me."
This was the last event for the PGA in 2018. The first 2019 event will take place at the Kapalua Plantation Course in Maui between January 3rd and the 6th. Interested in golf betting? Why not register with our top-rated golf betting sportsbook, bet365, with an abundance of special promotions and generous signup bonus, this is the perfect time to prepare for the upcoming PGA season. Register today!