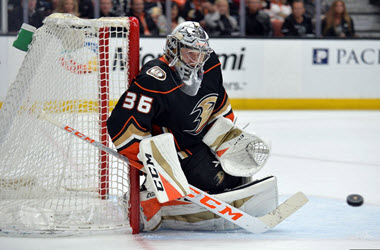 The Anaheim Ducks announced today that they have signed a contract extension with goalie John Gibson. The contract extension is for eight years and will keep Gibson in the net until the 2026-27 season.
The extension is worth $51.2 million. Gibson joins a number of other top NHL goalies who have seen substantial increases in pay during the off-season. This includes Marc-Andre Fleury (3 years/$21 million) and Carey Price (8 years/$84 million)
Gibson joined Anaheim in 2014 when only 20 years of age, and had eventually earned his way to the starting position after a standout year. Gibson was a second-round draft pick and has thirty-one wins last season and a .926 average in sixty games played.
Bob Murray, the general manager for Anaheim stated the organisation believes in Gibson, adding,
"This is obviously a major commitment by the club, but one we feel strongly about. John is equally committed to being a Duck. He is only now entering the prime of his career, and we are all confident his best is yet to come."
Hockey is Life
Gibson has the highest career save percentage among any goalie to appear in at least 150 NHL games since 1955-56. His .923 mark narrowly tops Ken Dryden (.922), Dominik Hasek (.922) and Tuukka Rask (.922). Next summer Gibson was would have been in a restricted free agent position and free to consider other offers. His salary for the upcoming season is $2.3 million; however, the new contract will see that amount almost tripled to $6.4 million and with it join a small list of top-earning goaltenders.
The Ducks provided a statement from Gibson in his behalf as he was unavailable as he was getting married. The statement read,
"I'm excited to be a part of this organization for the long term. Staying with the Ducks was always my preference, and I couldn't be happier. Living in the Orange County community with the great support of our fans, I can't think of a better place to play. It's great to be a part of the future of this team moving forward and hopefully bring a Stanley Cup back to Anaheim."
At the age of 26, Gibson has played twenty-six playoff games with the Ducks in four post-seasons. He debuted earlier than expected during the post-season with the franchise in 2014 and suffered losses against Los Angeles Kings after the Ducks led the series 3-2.
While critics were hard of Gibson, he persevered and continued to develop his skills. For the large part, he was the backup goalie to Frederik Andersen in his second season with the team helping Anaheim making the finals in the Western Conference. He and Anderson both shared the honours of the Jennings Trophy for the goalies with the least number of goals allowed during the post-season.
That achievement saw Gibson earning the starting position after Anderson was sent to Toronto versus being offered an extension with the Ducks. Gibson probed invaluable in the Ducks push in 2017 to go to the Conference Finals again, and that saw Anaheim owners choosing to award the goaltender a long-term contract.
The NHL season is set to get underway in on the 3rd of October. Punters eager to place bets early on the upcoming season and show their support for the Anaheim Ducks have many opportunities to do just that with top-rated Canadian friendly online sportsbooks such as Spin Palace Sports, or one of our other recommended NHL sportsbooks. Those who register with Spin Palace Sports will be entitled to a 100% match bonus up to $200. Register now and get your early bets in on this seasons 2018 Stanley Cup winner today!