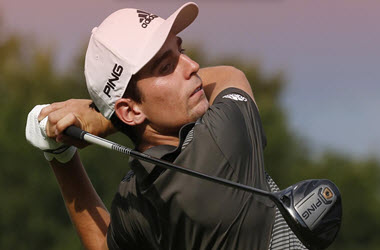 Round three of The Greenbrier has proven a special day for Joaquin Niemann who leapt ahead to top the leaderboard after shooting a 2-under 68. At 20, it was only two years ago that he was playing at as amateur and his first outside his native Chile when he finished tied for 29th place.
Now, two years later, he is in the lead and could become the first player in the PGA to win from Chilli. Niemann, who was sitting at 15 under after round two, was able to take a 2 shot lead on Saturday. Commenting on day three, Niemann said,
"I just feel like I'm almost a member here. I just like being out here. Always when you play on a course that you know already it helps a lot. I think this is the course I have played more on tour."
Niemann managed to score three birdies on Saturday and a bogey at The Greenbriar in West Virginia. He stated that he was pleased with how he played mentioning also that he felt the course had been good to him. To date, the leader at the end of the third round at the Greenbrier has never won leaving Joaquin Niemann with his work cut out for him.
Nate Lashley, who dealt with the tragedy of losing both his girlfriend and parents dying in a plane crash in 2004, returned to play the minor leagues and earned his first win on the tour at Detroit's Rocket Mortgage Classic in June. Commenting on the day, Lashley said,
"My mentality is I'm definitely a lot more relaxed. I'm just playing, just trying to take that as experience, the way I played in Detroit. You know, I really just kind of kept to myself that week and really just focused and tried to block everything else out. I feel like I've done a good job of that so far."
PGA
Lashley had a rough start on the day hitting four bogeys. Om the 11th hole he found the rough before sinking a bunker shot on the 15th. At he lined up for the 18th, he was met with thunderstorms and had to wait almost an hour before resuming play.
After finish 126th in last year's FedEx Cup Werensky and falling short on qualifying. After he missed the playoffs, Werensky told himself he was good enough, to chill out and relax. The advice must have worked after he managed to earn his spot on the tour after scoring well during the Korn Ferry Tour Finals.
After the second round, Scheffler, Shelton and Niemann were tied. Shelton managed to score birdies on the 12th and 14th hole and is hoping that the experience he gained from his two Korn Ferry Tour wins will help him stay cool and collected going into the final round on Sunday. Commenting, he said,
"You got to be super patient. I mean, it's hard to do, but hopefully I can manage my nerves tomorrow."
The final round will be a good opportunity for golf punters and with the field sitting tight, and only three shots separate the top three places, placing action on either could prove to be profitable. Those interested in betting on golf will find betting.ca's preferred golf betting partners offering multiple promotional bonuses. Registered today to maximise the opportunities that remain for the PGA season.