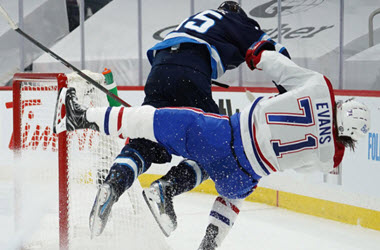 After a brutal hit during Game 1 between the Winnipeg Jets and Montreal Canadiens that resulted in Jake Evans suffering a concussion, the NHL's Player Safety department has hit Mark Scheifele with a four game suspension.
The announcement by the Department of Player Safety was made on Thursday night after conducting a hearing on the hit by Scheifele. While Scheifele faced a maximum five game suspension, they opted for a four-game suspension during the hearing held via a conference.
At 207 pounds, Scheifele, who stands at over 6.3 feet and weighs 207 pounds, was slapped with a game misconduct and charging major during the game. While the league and the Canadiens felt the hit was dirty, Winnipeg coach Paul Maurice believed otherwise, stating he felt it was a clean hit.
"For me the feet are on the ice, the arms are tucked in and it's a body contact, that's the way I see it."
The hit came with less than a minute remaining in regulation after Jake Evans scored on an empty. As he came behind the net, Mark Scheifele delivered the devastating hit before Evans could even celebrate the winning goal.
CityNews Toronto
The blow saw Evans fell hard, slamming the right side of his head into the ice. After fellow Canadiens came to his defence, Nikolaj Ehlersused dropped down to protect Evans as he lay unconscious on the ice while the Jets and Canadiens were fighting.
After the ensuing melee ended, it was a full eight minutes before Evans was led off the ice on a stretcher. That seemed lost on Paul Maurice, who again defended Scheifele stating,
"You need to do everything you can to stop a goal from being scored. It was a heavy, heavy hit for sure but it was clean."
Adding to his comments, Maurice said that Scheifele is a big, powerful and strong player who can skate and was working hard to try to stop the play.
"He wasn't striding through the hit by any means. It was a hell of a hit, it was hard. Good on Evans, he took the hit to make the play. I didn't have to bring in Oprah or Dr. Phil to sit down with Mark to see how he's feeling."
Although Evans wasn't transported to hospital, Canadiens coach Dominique Ducharme said he had been diagnosed with a concussion. This is not the first time Evans has been taken off the ice on a stretcher, the first came during his rookie year.
"Any concussion you can be worried about. Obviously you can have one and sometimes it's one too many. You never want to see that."
As of press time, Evans is on the indefinite injured list and will not play Friday. This was the second opener in the North Division resulting in a player being removed from the ice by stretcher. The first was John Tavares after Montreal's Corey Perry hit him in the head with his knee.
While the Jet's may have seen the play one way, Paul Byron on the Canadiens saw it completely different than how Paul Maurice perceived it.
"It just seemed so unnecessary. Everyone kind of knew he was going to score the goal, it didn't really seem like he made much of an effort to stop the goal. You see your teammate and friend lying on the ice like that, it's a terrible feeling."
For Winnipeg, Scheifele is a bitter pill to swallow and one that the Jet's will feel going forward in the playoffs. As the teams top scorer, he scored 21 goals in the regular season and earned over 40 assists in 56 games. A native of Kitchener, Ontario, Scheifele has scored two goals in the playoffs in five games and is tied with Josh Morrissey, Blake Wheeler and Kyle Connor as the teams top scorer.
Going into the remainder of the series, Montreal's Jeff Petry, who plays defence, said Montreal would not alter their game due to Scheifele's suspension, saying we will play as if he was there before adding,
"Pressure them hard, take away their time. We're going to approach the game the same way and focus on what we need to do."
Both Petry and Byron believe the best revenge they can take against Winnipeg is to win the series and move on. Both noted the value Evans brought to the team and his efforts to chase the puck and score in Game 1. Byron, who himself received a suspension in 2019 for a hit to Florida Panthers Mackenzie Weegar during a game, has similar feelings but has regret over the incident.
"My own feelings were obviously regret. I don't think you ever consciously go in to hit a guy to hurt someone but at the same time you have to own up to your actions. You're responsible, it doesn't matter if a guy is in a vulnerable position or not. At the end of the day you control your actions, you control what you do, how you finish your checks …you have to own up what you do and be responsible and take accountability for it."
The Montreal Canadiens and Winnipeg Jets meet for Game 2 in the series tonight at the Bell MTS Centre in Manitoba. With tensions running high, fans anticipate the game will be tense and full of action, the perfect setting for punters wanting to wager on tonight's game.