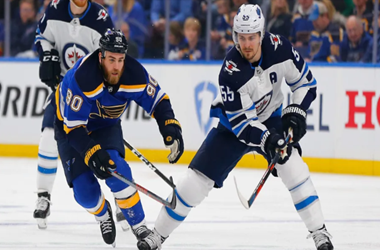 The Winnipeg Jets and St. Louis Blues met for Game 5 at the Bell MTS Arena on a mission to take the lead going into Game 6, only a lucky shot by Jaden Schwartz put an end to that goal.
The game tied 2-2 and with 15 seconds left on the clock, Schwartz scored to put St. Louis up 3-2 and with it, ta 3-2 lead in the Western Conference quarterfinal on Thursday night. The lead up to the goal saw Tyler Bozak sending Swartz a pass, who then hit the puck in the air and past Connor Hellebuyck. Commenting on the goal, Swartz said,
"Bozak came on, he was fresh, and probably knew there wasn't much time left so he just threw (the puck) on net and I kind of got lucky, it just hit my stick,"
Brayden Schenn and Ryan O'Reilly also scored for the St. Louis Blues. Jordan Binnington stopped 20 shots and Tyler Bozak, Vince Dunn, Ryan O'Reilly, Alex Pietrangeleo and Brayden Scheen earned assists. The series now moves back to St. Louis for Game 6, and for NHL punters, a perfect opportunity to register with leading Canadian friendly sportsbooks offering generous sign up bonuses.
The Jets were ahead 2-0 in the first period after Kevin Hayes and Adam Lowry both scored but seemed unable to stop the Blues from getting back into the game. Commenting, Kevin Hayes said,
"If we lose, we're done. That's enough motivation. Game 6 will be our best game."
Historically, when in a playoff situation tied two games apiece, the team that wins Game 5 goes onto the win the series, and that is bad news for Winnipeg, but good news for St. Louis, especially when considering each game so far has been won by the visiting team. Commenting, St. Louis Blues Captain Alex Pietrangelo said,
"You don't see that too often, right?. You don't see the road team win all the games but, again, we've got to go home and we played better in Game 4 there so we've got to build off that."
Connor Hellebuyck stopped 26 shots last night and in doing so increased his loss percentage when playing with home ice advantage. Hellebuyck, while speaking about Schwartz's goal said,
"Lucky pinballs. The puck just bounced and ended up right on their tape. Tough to eat that one, but I thought we were the better team. If we keep fighting here, it's not over."
The Blues managed to tie the game 2-2 with six minutes left to go in the third. That goal resulted in a video review that officials deemed good. Schenn picked up a pass from Oskar Sundqvist who then slipped it into the net which came loose. However, it was ruled that the puck passed the crease before the net came lose and therefore the goal counted.
Winnipeg's Adam Lowry had the crowds in cheers after scoring a mere twelve seconds into the first period after picking up a rebound from Brandon Tanev and slipping it past Binnington. That goal set the record for the quickest goal in a playoff game for the Winnipeg Jets surpassing the previous record held by Jacob Truba of 31 seconds.
The crowds began to taunt Binnington with "You look nervous" and that saw Binnington commenting that, after a video clip was released showing the rookie saying "Do I look nervous?" on social media,
"Yeah, that's incredible. You get what you ask for because when I was younger, I really enjoyed that stuff and always wanted it, and now it's here. It doesn't feel as good as I thought, but it's cool, it's really cool."