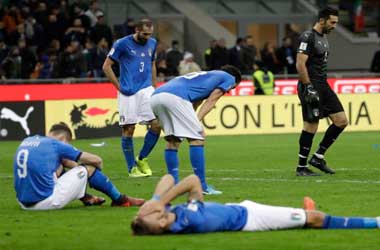 Italy has been one of the major forces in world soccer for decades but in recent times have fallen behind when compared to Germany, Argentina and Brazil. The Italians knew they had to win their game against Sweden on November 13 to keep their FIFA World Cup qualification hopes alive.
Italy took on Sweden at the Milan San Siro stadium and had the support of the home crowd but it wasn't enough for the Azzurri to secure a win. They played really well in terms of ball possession but they were unable to find the firepower to break the shackles and score.
The match finished as a goal-less draw which meant that Italy did not secure enough points to qualify for the 2018 FIFA World Cup in Russia. This was the first time in 60 years that Italy has failed to qualify for the FIFA World Cup.
Sweden went through on a 1-0 aggregate and will play in Russia. The last time Sweden qualified was back in 2006. The Italians were embarrassed in front of their home fans who were left in shock and disbelief. Veteran goal-keeper Gianluigi Buffon along with senior players such as Andrea Barzagli and Daniele De Rossi immediately announced their retirement from international soccer. There are reports that Giorgio Chiellini will also hang up his boots.
Guardian Football
In a statement, Gianluigi Buffon said
It is upsetting that my last match decided we didn't qualify for the World Cup. I'm sorry. Not for me but for Italy. We blew something that could have meant so much. The only regret is that it ended like this.
Italian fans and media were very upset with the result and called for coach Giampiero Ventura to be sacked. There were also rumours going around that Ventura had sent in his resignation but he denied resigning and apologised for the result but not for hard work and effort. The media in Italy have called for Ventura to be replaced with either Antonio Conte or Carlo Ancelotti.
While Ventura has to shoulder a lot of the blame for this embarrassment, Italy's problems go a lot deeper. The Italians have performed well over the years because they have had great players who performed when it mattered. Roberto Baggio, Andrea Pirlo and Francesco Totti to name just a few but in recent years, Italy has struggled to produce great players and that goes back to problems with its domestic league. Italy is likely to make significant changes to its structure and programs in an effort to one again be a dominant force in world soccer.