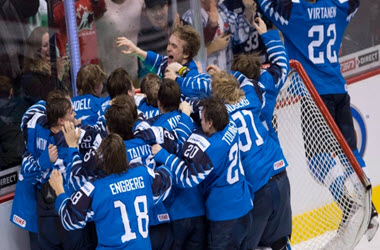 Team Finland and Team USA met on Saturday for the gold medal game at this year's World Juniors in Vancouver, and as the final buzzer rang, it was Team Finland who earned the gold medal after defeating Team USA 3-2.
Jack Hughes, who with his teammates came close to winning in a dramatic 3-2 final, the emotions were still rare on Saturday night as he met with the media to discuss the game. There was sadness, bitterness and rare emotions as he stated,
"Right now, there's nothing I really want to learn from this. It's sad. I don't want to go through this again."
Hughes, who many expect will be the first name drawn in this year's draft is young and the emotions are tough to check at the door. Finland's Kaapo Kakko, another top draft pick, scored the winning goal last night with just under 90 seconds left in the third period, and after being tied 2-2, the loss was tough to swallow for the Americans.
Kaapo Kakko, who commented that the win was a great feeling through a translator, was praised by teammates for his performance throughout the tournament. Many predict that he will go first in the draft, ahead of Hughes as a result. Team Captain for Finland, Aarne Talvitie feels Kakko is unbelievable adding,
"First tournament and he scores a goal like that? Unbelievable. It sums up his tournament, for sure."
USA Hockey
Eeli Tolvanen, who joined the Nashville Predators for four games last month also praised the young player stating,
"He's so young but he seems like a third-year veteran guy out there. He don't fear anything. He's unbelievable. He's going to be the first overall for sure."
Jussi Ahokas, coach for Team Finland shared the sediment stating he believes he one day will become a superstar in the NHL but that they won as a team. Ahokas added,
"We were really tight. We have great personalities on the team. We grew up as a team."
Last night's win, for Jussi Ahokas, who has coached several of Finlands WC players, was especially special. Ahokas coached Aarne Talvitie when he was nine as his skills coach and stated that it was cool to have him on the team, that is was a long journey with a great group of players.
This was the fifth time the Finnish team has won the World Juniors, but after being eliminated last year during the quarterfinals, the win this year felt a little sweeter after Otto Latvala and Jesse Ylonen each scored, and Ukko-Pekka Luukkonen, who earned the top goalie award did a solid job goaltending. Ukko-Pekka Luukkonen who is a prospect for the Buffalo Sabres commented that,
"We showed at the end of the tournament why we are one of the best teams. We have grown up as players and a group."
The U.S were down 2-0 but managed to reduce the deficit during the third period to tie the game after Alexander Chmelevski and Josh Norris both scored. The devastation after getting back in the game came when Kakko scored with 90 seconds left. Cayden Primeau, goalie for the U.S, stopped 28 shots or of 31 commented that,
"At the end of the day it's about who stops the puck more. We didn't get that on our side so that's why we came up short."
The resiliency of the U.S team was not lost on head coach Mike Hastings, who said the entire team was selfless throughout the tournament. Adding to that, Hastings stated,
"I'm disappointed in the outcome, but I'm not disappointed in the group in there. I'm very proud of them for what they went through and for what they gave. Finland earned what they got tonight. We definitely tried. It wasn't from a lack of effort. It may have been a little bit of a lack of execution. But that happens in games like this."
The U.S team had registered only one loss throughout the tournament when they were defeated 5-4 in their game against Sweden during overtime. Finland, however, seemed sloppy and unimpressive during the group stage and faced elimination during the quarterfinals but managed a 2-1 overtime win over Canada to advance.
For Luukkonen, the game against Canada was a turning point for the team that continued to improve with each game. Commenting, Luukkonen stated,
"We kept playing better in every game. That was the biggest thing for us. Every team that comes here comes to win the gold medal. We had our ups and downs in the tournament. In the end we got the gold medal so there is nothing more we can ask."
The World Juniors will next take place in the Czech Republic in 2020, and for Team U.S.A and Team Canada, another top team that failed to make the finals, it will be time for reflection and regrouping.