FIFA Asked To Investigate Abuse Borjan Suffered Against Croatia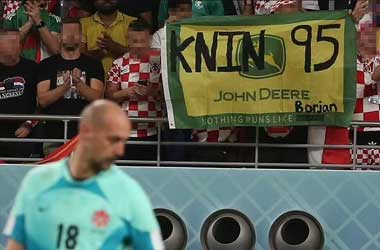 Summary
Goalkeeper Milan Borjan was abused by Croatian fans during Canada's match against Croatia
Milan Borjan has Serbian family ties and hence was subject to abuse
Canada Soccer raises issue to FIFA and requests for formal apology
Canada had a great opening match at the FIFA World Cup against Belgium even though they ended up losing 0-1.
Their second game against Croatia was one to forget as they were humbled as Croatia finished with a 4-1 win that eliminated Canada from moving to the round of 16.
Canada Soccer Files Complaint With FIFA
Canada Soccer decided to file a complaint with football's world governing body FIFA after the match. Canada Soccer wasn't happy with the behaviour of Croatian fans at the game as they hurled abuse and slander and Canada's goalkeeper Milan Borjan.
Milan Borjan and his family have ties to Serbia as they migrated to Canada in 1995 after they fled Serbia on tractors when Croatia invaded Serbia. There were visuals at the ground of Croatian fans displaying a flag of John Deere, an American tractor manufacturer and changed the marketing slogan to target Borjan (pictured above).
The abuse escalated during the second half when Borjan stood at the goal that was right behind the set of Croatian fans that targeted him. The 35 year old Borjan who has represented Canada on 71 occasions had to put up with the abuse and discrimination throughout the game, which could have had an impact on his performance during the soccer match.
Canada Soccer's letter to FIFA requested for a full explanation as to how Croatian fans managed to get in such props into the stadium and why were they allowed to get away with such behaviour in the stadium. Canada Soccer has asked FIFA to clarify how they will address such behaviour in the future and have also requested for a formal apology.
FIFA Yet To Confirm Timetable For Decision
FIFA currently has its hands full with the World Cup getting closer to the round of 16. FIFA is yet to provide a timeline as to when a verdict on this complaint will be issued. A typical ruling in such cases is for FIFA to issue a financial fine to the Croatian Football Federation.
FIFA's first fine at the 2022 FIFA World Cup was against Germany who were hit with a C$14,000 penalty for failing to bring players to a press conference one day before their game against Spain.