Ex-Canada Soccer Head Makes Public Apology To Sinclair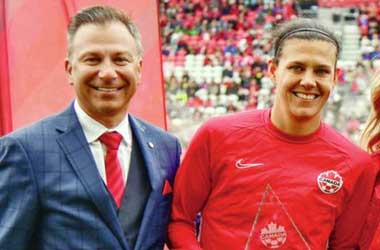 Summary
Nick Bontis has apologized to Christine Sinclair in front of a Standing Committee
Bontis is alleged to have sad Sinclair was 'bitching about' better compensation for female players
Bontis also backed the current CSB-Canadian Soccer business deal
It's been over a month since Nick Bontis stepped down as the President of Canada Soccer after a lot of pressure was imposed on him for not doing enough to resolve the disputes between Canada Soccer and the women's football team.
Bontis Issues Apology To Christine Sinclair
The women's soccer team took on Canada Soccer over not being paid the same rate as the men's soccer team. They felt that Canada Soccer was being extremely biased in their treatment of the women's soccer team and initially threatened to boycott the SheBelieves Cup in Feb 2023 before Canada Soccer threatened them with legal action and forced them to play.
Christine Sinclair who is the top goal scorer for Canada in women's football approached Bontis about being paid equally as the men's soccer team but was verbally insulted by Bontis. The allegation made against Bontis was that he said "What was it Chrsitine was bitching about?" Sinclair said she had never felt more insulted in her life than when she heard those words.
Bontis stood before a Standing Committee on Canadian Heritage in Ottawa on March 30 and said he does not remember using those exact words but nevertheless went on to issue an apology.
In a statement, Bontis said
She felt that I treated her concerns disrespectfully. I feel terrible about making her feel this way. I've since communicated with Christine and her agent to apologize personally. It was a mistake. I take responsibility for it. I regret it.
Bontis Backs Canada Soccer – CBS Business Deal
Bontis also address the controversial deal that Canada Soccer made with Canadian Soccer Business (CSB) during his tenure. The deal required CSB to pay Canada Soccer $3 million in exchange for full broadcast, financial and sponsorship rights of the Canadian Premier League which is for male football players only.
Both male and female football players have protested against this deal as they feel that Canada Soccer is handicapped by it as it cannot take advantage of the success of its players.
Bontis defended the deal saying that prior to the contract, Canada Soccer was pumping in its own money to broadcast national games on TV but the new contract with CSB brought in guaranteed revenue to Canada Soccer.