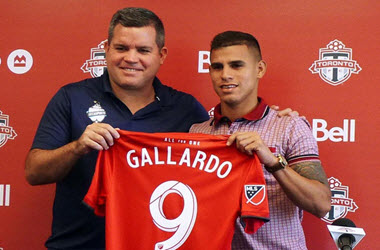 The Toronto FC have finally closed the deal to acquire winger Erickson Gallardo it was announced this week. At 22, the Venezuelan arrived on the first day of the second window for MLS transfers and made his debut nationally last month in a friendly match against Ecuador that results in a draw.
In a statement released on Tuesday, Toronto General manager for Toronto FC, Ali Curtis, while speaking about Gallardo and what he brings to the team, said,
"Erickson is a talented attacking player that will improve our team. He has good character and is excited to earn the respect of his teammates, meet our great fans, and he and his wife are looking forward to settling into the City of Toronto. "
Curtis also made mention of Erickson Gallardo's speed and his ability to open the game for others and himself. Adding to his comments, Curtis stated,
"Mid-season can sometimes be challenging to step into a new team, particularly for young, international players. With that said, we're excited to get him going because we believe he can make an impact now, and in the future."
"Dynamic, quick, aggressive in the attack"

Head coach Greg Vanney talks about new additions, returning players, 401 derby and more.

🎥➡️ https://t.co/qY5hoGcJEx #TFCLive pic.twitter.com/VClDYJ6f2X

— Toronto FC (@TorontoFC) July 9, 2019
At 150 pounds and five-foot-eight, Gallardo joins TFC from Zamora FC. While with the Venezuelan team he has 116 appearances and won three league titles since 2014. In his last three seasons, he played in 91 games, scored ten goals and had nineteen assists.
The TFC and it's head coach, Greg Vanney, have been on the hunt for someone to add to its wings. The franchise lost much of its attack after both Victor Vazquez and Sebastian Giovinco chose to leave the organization and accept lucrative deals with Middle East clubs.
TFC also announced that is signed Omar Gonzalez on the 3rd of June. Gonzalez, who plays centre back, joined the team for training on Tuesday after seeing his transfer being delayed until his responsibilities during the Gold Cup were completed and the re-opening of the transfer window.
"I've only heard amazing things about Toronto and I'm really happy to be here and excited to get started"

Listen to the Reds' newest defender speak to the media on his first day.

🎥➡️ https://t.co/qY5hoGcJEx #TFCLive | @Omar4Gonzalez pic.twitter.com/mTe3V7yxN9

— Toronto FC (@TorontoFC) July 9, 2019
At age 30, the Texan native previously played with the Los Angeles Galaxy for seven years before moving on to play in Mexico for Atlas and Pachuca. At six-foot-five, he brings substantial experience to the roster and a respected resume in the MLS. Gonzalez was awarded the 2009 Rookie of the Year and has won Supporters Shields in 2010 and 2011 as well as MLS Cups in 2011, 2012 and 2014. In addition to the shields and three Cups, Gonzalez was chosen four times as the MLS Best XI and in 2011, won Defender of the Year in 2011.
The acquisition of Gonzalez and Erickson came from funds set aside for targeted allocation. That allows for a salary cap as little as $150,000. The targeted allocation money may also be allocated for the resigning of current players when their salary exceeds the $530,000 maximum salary budget charge as long as that amount is less than $1.5 million.