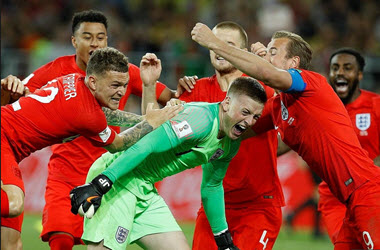 As the shootout stage began, it was a toss up who would come out victorious, and after going three shots each, it was Harry Kane's brilliance that saw England take the lead 4-3. After Columbia failed to score on their fourth shot – the celebrations began.
Kane scored twice for England with his first coming at the 57th minute mark after connecting with a penalty kick. When you consider the surprises that have happened in their year's World Cup, one more seemed just what the U.K hoped for. This will be the first time in the last dozen years that England will head to the quarterfinals.
It was Eric Dier shot that saw Columbia denied the chance to play the quarterfinals. For Columbia, this is the second consecutive time they have failed to make the quarterfinals. Commenting after the match, Dier said,
"It was a nervous one.I've never really been in a situation like that before."
On Saturday England will face Sweden after the Swedes defeated Switzerland on Monday. England has failed to progress further in a tournament since the days of Beckham, where he was joined by a solid set of players. However, with their retirements, England has struggled to return to their glory days but may be on the cusp of returning to the limelight, and for betting analysts looking to place bets with top Canadian sportsbooks, it is a prime opportunity before Saturday's game gets underway.
The moment. #threelions. pic.twitter.com/RVynUdrnza

— England (@England) July 3, 2018
After Kane gave England the lead, Columbia's Yerry Mina scored with a header that tied the match. The late minute goal by Columbia was a knockdown for England said Dier,
"To get knocked down at the end like we did at the end, it's difficult to come back from that," Dier said. "But we were ready for that. We were calm. We stuck to our plan."
Columbia came out ahead once the shootout stage began leading 3-2 after England's Jordan Henderson failed to score. It was then Columbia's turn to shoot on goal, but Mateus Uribe shot high hitting bar. Then Jordan Pickford, England's goalkeeper denied Carlos Bacca as he shot on goal.
Speaking about the back and forth, Pickford said,
"I did a whole bunch of research. Falcao is the only one who didn't go his way. I don't care if I'm not the biggest keeper in the world. I have the power and agility."
Dust settling today. Very proud of this team. Full focus on Saturday. 👍 #ThreeLions 🦁🦁🦁 #ENG #WorldCup pic.twitter.com/LtcZwvyRsB

— Harry Kane (@HKane) July 4, 2018
It was that mentality that helped Pickford succeed where other goalkeepers for England have failed. That includes Peter Shilton in 1990, David Seaman in 1998 and Paul Robinson in 2006. To add to England's past troubles, they were taken out of the European Championship semifinals in 1996 and lost in the quarterfinals due to penalties in 2004 and 2012.
However, their team in this year's World Cup are young and fresh and came into the tournament without baggage from past tournaments – for England, it seemed like the right combination – young, full of scruff and a few seasoned veterans to keep them steered in the right direction.