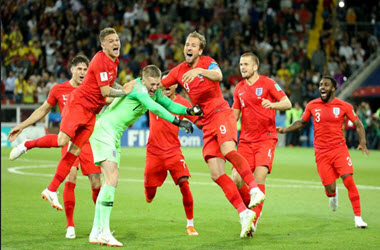 England has achieved what it has failed to do in 28 years – make it to the semifinals. After defeating Sweden 2-0 on Saturday, the United Kingdom celebrated in unison as the lads moved one step closer to going to the finals and maybe bringing home the championship.
Dele Alli and Harry Maguire scored for England. They now join Croatia for a chance at making it into the final on the 15tth, and with one more win, that is exactly where this young and fast team will be.
Speaking about the accomplishment and how the team performed on the field, Harry Kane, England's Captain said,
""We looked composed, we looked like we controlled the game."
Sweden worked hard after going further in this year's tournament than was expected. Yet, for England, the celebrations were muted as many on the Swedes teams are colleagues and teammates past, present and possibly, future.
England was also not expected to make it this far, just another surprise that many didn't expect, but many enjoyed. Considering their roster of young players, it is a crowning achievement considering the likes of David Beckham and Steven Gerrard were unable to make it this far in a World Cup tournament.
While the celebrations were low on the field, in the U.K, it was quite the opposite with fans in full celebration, even at Wimbledon fans were more focused on the match broadcast on their phones than the one being played before them.
When told of the joy English fans are feeling and the celebrations that followed, Kane said,
"I know the fans here are enjoying it. The fans at home, I'm sure we'll see some videos tonight of them enjoying it."
Brilliant from everyone today. Bring on the semi-finals! 🦁🦁🦁 #ThreeLions #ENG #WorldCup pic.twitter.com/Y2vDk5IqD8

— Harry Kane (@HKane) July 7, 2018
As the game came to an end, you could hear British fans chanting "On our way, on our way, to Moscow, on our way. England's rise to the semis was driven as a result of goals and speed, but that journey to the finals is far from over as the others including Croatia, France and Belgium all vying to go the distance.
Dele Ali's goal made him the youngest to score for England in a World Cup game and picking up the pass by Jesse Lingard put Ali in the right spot to make it happen.
Commenting on Ali and the importance of set plays, Harry Maguire said,
"We knew set plays would be key, and also that little ball that Jesse sent in for Dele, that was great. We worked on that in practice."
For the Swedes, England proved to be too much for them. This year was one of their best in recent memory having advanced further than when led by Ibrahimovic. Their efforts saw them defeating Italy and Switzerland, so much was accomplished and should be celebrated.
For bettors wanting to get in on semi-final action, France will face Belgium on Tuesday for an afternoon game while England will face Croatia on Wednesday, also for an afternoon game. With celebrations at an all-time high, our recommended Canadian sports betting sites are rolling out promotions for the World Cup and now is the time to take advantage of them.