Oilers Pay Tribute After Losing Their Most Popular Young Fan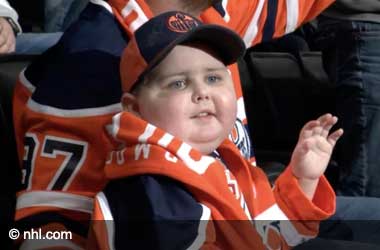 Summary
Edmonton Oilers most popular young fan loses battle to cancer
Ben Stelter inspired the Oilers with his attitude and courage to fight till the end
Connor McDavid and Jay Woodcroft pay tribute to young Stelter
The Edmonton Oilers are arguably the most popular Canadian team in the National Hockey League (NHL) and have millions of fans in Canada and around the world. One of their most popular fans in recent months was young Ben Stelter who was battling a rare form of cancer called glioblastoma.
Edmonton Oilers Lose Young Fan Ben Stelter
Ben Stelter was diagnosed with glioblastoma (a rare form of brain cancer) just before he turned 5th birthday. The young man did not let his battle with glioblastoma dampen his love for the NHL or his favorite team the Edmonton Oilers. The doctors did not give Ben much of a chance and his parents wanted to do everything they could to make him happy. 
Ben got the opportunity in late 2021 to meet a number of players at the Edmonton Oilers including his favorite player captain Connor McDavid. When the Oilers heard about Ben Stelter, they invited him into the dressing room and gave him a chance to interact with some of the players including McDavid.
While young fans can get intimidated or shy when they meet their heroes, Stelter had no such problem and was overjoyed to be in the presence of the Oilers. He met them in September 2021 and faced the media like a pro answering questions and inspiring others with his attitude and zest for life.
Ben Stelter's dad took to social media this week to reveal that his son had passed away.
McDavid and Woodcroft Pay Tribute
Connor McDavid paid tribute to young Ben Stelter and said he remembered the time when he walked in and shared the dressing room with him. McDavid said it was a really cool moment to share with the young man who had such a presence about him.
Evander Kane who plays for the Oilers took to Twitter to say that he was going to miss the fist pumps from Ben and spoke about what an inspiration he was to him and the Oilers. He passed on his condolences to the Stelter family.
Oilers coach Woodcroft said that Ben also lit up the hockey fan base for the Oilers and had a big impact on the organization as a whole.