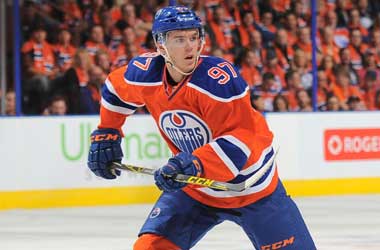 NHL fans were looking forward to the clash between defending champions Pittsburgh Penguins and the Edmonton Oilers on Tuesday night at the PPG Paints Arena as they wanted to see two of the best players in the league compete against each other.
Penguins captain Sidney Cosby was the MVP of the Stanley Cup playoffs and is widely regarded as the best player in the game while Oilers Captain Connor McDavid was last season's MVP and considered by many to be second best player in the NHL.
The two NHL stars were facing for only the third time in the NHL and on Tuesday it was the Penguins who held their nerve during the crucial moments which helped them to win 2-1.
More than 18,000 fans packed out the PPG Paints Arena and were expecting a fireworks from Cosby and McDavid. Instead they were treated to a phenomenal performance by both goalkeepers as Cam Talbot and Matt Murray stole the show with fantastic goalkeeping. There were a total of 74 shots on net during the match and only thrice did the red light blink.
NHL
The Oilers had multiple opportunities to score but Murray came up with save after save to keep the Oilers at bay. They were frustrated that they were unable to convert their opportunities and ended up on the losing side. Oilers fans will not be too disappointed with their teams performance as they did push the defending champions and could have easily walked away with a win.
However Oilers captain McDavid isn't very happy with his forwards and also held himself accountable for failing to convert. McDavid said the Oilers were a lot faster last season and appeared to be slow out of the blocks during their first few games.
In a statement, McDavid said
We're missing some flat-out open nets, and it's costing us. We just have to relax, and calm down. We're getting these chances in front of the net that should be automatic, and we're not scoring them, myself included. Talbs is standing on his head, the defence is playing great.
Todd McLellan who is the Oilers head coach agreed with McDavid and said that his team needs to work on becoming a lot more fast. McLellan said that the Oilers will need to work on getting into position faster, releasing shots faster, anticipating better and thinking faster which will enable them to increase their overall speed. The Oilers are scheduled to play their next game on October 27 against the Dallas Stars.