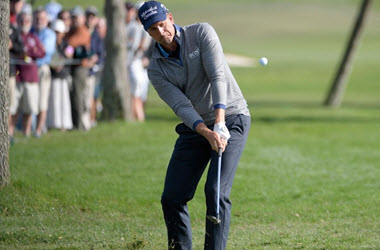 Henrik Stenson is in a good position at Bay hill making it tougher on the pack as he shares the lead with DeChambeau. Stenson had three saves at par yesterday that helped him let and stopped the round from getting up on him.
Stenson shot three birdies straight on the last nine holes and shot a 3 under 69 putting him in the lead at the Arnold Palmer Invitational with Bryson DeChambeau. The day started out quite cool but warmed up in the afternoon, warm enough to allow Tiger Woods to make a birdie on the 12th hole but finishing the day seven shots behind the leaders.
Said Woods on the day,
"I didn't hit the ball close, I didn't hit the ball well, but I was just hanging in there … just try not to shoot myself out of the tournament."
Bryson DeChambeau finished the back nine strong shooting an eagle on the 16th and a birdie on the 18th to give him a 66 on the day and a share in the lead.
For DeChambeau, he is happy with his progress stating,
"I think every week I'm good enough to win or play my best. It's just sometimes a kick here, a break here and that's just what happens."
For Henrik Stenson, he is hoping not to repeat 2015 when playing with a two-shot lead at Bay Hill and being put on the clock only to see his lead evaporate after shooting two bogeys on his last three holes and finishing behind the leaders.
PGA Tour
Said Stenson on his performance,
"I made some great par putts and a bunker up-and-down, so that was really key today to keep the round going. I didn't drop a shot, where I could have easily dropped three shots on those holes. So that was crucial."
The temperatures at Bay Hill were a brisky 50 at tee time, and for Stenson, who had called Dubai and most recently, Orlando home, the cooler weather was not ideal. He said that if he was not playing in a tournament, today would be a day to hang out in the clubhouse and wait for it to warm up.
Stenson said, I may be Swedish, but feel living in a warn environment for so long has made him soft. Yet, when it mattered, Stenson stepped up to the plate after shanking a bunker shot off the fairway on the 16th and sinking an 8 foot put to walk away with par. Stenson also landed in the bunker on the 17th and saved par on it as well. From there on, Stenson got it together and shot three back-to-back birdies to tie him in the lead with DeChambeau.
As the day came to a close, the top ten were separated by a mere five shots. With Stenson known for ball striking, and having shot a dozen birding in the last thirty-six, it seems Bay Hill is his to lose. Whether golf sportsbetting sites will continue to favour Stenson for the title at the tournament continues is yet to be determined, but needless to say, the time is rip to get in bets before the final round.
Speaking on Stenson and what it will take to catch him, McIlroy said,
"Henrik has played great. I'm going to have to play very, very good golf on the weekend to catch him, but I'm in a better position this Friday than I was last Friday, so I'll take anything I can get."