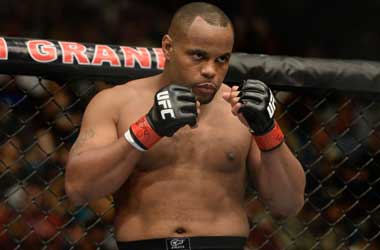 The Jon Jones vs. Daniel Cormier rivalry is one of the most heated rivalries in combat sports. The two fighters are considered the best lightweight fighters in 205 division in MMA history and have fought twice in the Octagon, with Jones winning both fights.
The first fight Jones won via decision defending his belt and the second was in July at UFC 214 when Jones reclaimed his belt after a brutal knockout.
Jones kissed Daniel Cormier on his head and looked to bury the hatchet as Cormier said that with him losing twice to Jones, there was no rivalry to talk about. Since losing the title and breaking down emotionally in the Octagon, Cormier has stayed silent and avoided any contact over social media.
He is currently honeymooning in the Bahamas but took time off to get on MMA Journalist's Ariel Helwani's podcast to discuss his loss to Jones and open up about his future plans. DC said that he has not watched the fight and due to the concussion he suffered, is not able to remember at least 10 minutes of what happened in the Octagon. He said his current focus is to spend time with his family and confirmed that he will not fight again in 2017.
However DC did confirm that he has no plans to retire and wants to fight Jon Jones again. He said he will do what it takes to go through other fighters and secure another crack at the UFC title. When asked about burying the hatchet with Jon Jones, DC said he can be professional around Jones as he did commentary for the UFC but did not think it was realistic for him to forget all the bad blood and the nasty things that were said in the past.
DC said that the UFC had already contacted him about possible fights and also confirmed that he might think about moving up to the heavyweight division. However it looks like he is not in a position to digest the fact that Jon Jones is the better fighter and the second fight Jones won convincingly after coming back from a 15 month break.
Cormier believes that some of the fights that the UFC can make for him include a bout with Jimi Manuwa who also suffered a loss at UFC 214 against Volkan Oezdemir. Cormier also mentioned Oezdemir and said he will do what it takes to put himself in a place where he can have another crack at Jon Jones.