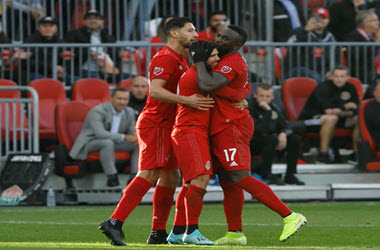 The Toronto FC scored an important victory on Sunday in their last home in the regular season that will see them earn a first round home game in the playoffs.
Toronto earned the win thanks to a 1-0 win over the Columbus Crew after reliever Alejandro Pozuelo scored during a free kick. TFC went into Sunday's game in 6th place and needed a win over Columbus, and the New York Red Bulls to lose against D.C United in order to jump into 4th and earn a first round playoff home game.
Somehow, that is exactly what happened after Toronto earned the win and D.C United failed to win over Montreal. That put Toronto above D.C United, with the goal difference. The two will meet at BMO Field on the 19th or 20th of October, and the winner of that game will play the Eastern semifinals against the New York City FC.
The one thing to come from Sunday's game was Jozy Altidore walking off the field at the 70th minute mark after a collision near the goal. Commenting on the incident and Altidore's condition, coach Greg Vanney said,
"His quad was sore. We don't quite know where he's at. We'll have to see from an MRI what it looks like and what the timeline might be or how we deal with it."
MLS
Toronto is now off for two weeks and being that Jozy Altidore plays for the U.S in the nation's league, it will be keeping a close eye on his condition. Altidore and Alejandro Pozuelo are TFC's top scorers with Pozuelo racking up 12 in the regular season, and Altidore, who has 11 is a major physical presence on the field. He consistently interferes with opposing teams defences while he makes room for others to score goals.
Toronto was able to extend its win streak in league play to ten, which began in August and in the last 15, has only lost two games. Speaking on their success, captain Michael Bradley said,
"I had a feeling that if we could take care of business here, that given the way things could play (out) in Montreal and D.C., we'd have a real chance. To have a few things fall into place for us and to get a home game to start the playoffs is huge. This place comes alive in October, November. So what it means is we get one night to set the playoff tone here."
While D.C United was disappointed with its results on Sunday against Montreal, it has only lost the one game in its last five. That is good information for punters ready to place bets on the upcoming MLS playoffs, especially when you consider that leading sportsbooks such as Bodog are ramping up the betting options in preparation of its start.
Toronto managed to control the ball more in the first half and had multiple scoring chances but failed to capitalize on those opportunities. Goalkeeper Westberg stopped several shots on goal as did the Crew's keeper Elroy who made two back-back saves in rapid succession in the first half. Commenting on the game, Columbus coach Caleb Porter said,
"I thought it was an even game. We had chances …The difference in the match is a dead ball, top of the box, Pozuelo. And often times in these games, the difference in the match is a player and a moment. That was the difference today."