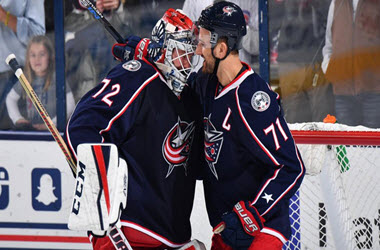 The Columbus Blue Jackets went into last night two points behind Montreal and in desperate need of a win if they hoped to keep their hopes of making the playoffs alive.
Columbus began the first period with a disappointing show that ended up with a surprising victory that put them back in the hunt for the last of the Eastern Division wild-cards positions. After spending the first period trying to sort themselves out, The Blue Jackets began the second scoring, and those kept coming as they went on to a 6-2 victory over the Montreal Canadiens.
Scoring for the Blue Jackets last night was Oliver Bjorkstrand with two, Brandon Dubinsky, Riley Nash, Artemi Panarin and David Savard. Dubinsky also earned an assist as did Matt Duchene, Nick Foligno, Seth Jones, Dean Kukan, Markus Nutivaara and Alexander Wennberg. Serge Bobrovsky stopped 26 shots. John Tortorella, head coach of the Columbus Blue Jackets, commented on the game said,
"We're just trying to keep our foot on the gas."
Montreal's Jeff Petry scored one goal as did Brett Kulak with assists going to Phillip Danault, Max Domi and Andrew Shaw. Commenting on the remaining regular season, Jeff Petry said,
"It ain't over. As much as this one hurts, we know we still have a chance."
Sportsnet
Montreal's Bret Kukak scored early in the first period, while the Blue Jackets had difficulty in clearing the puck away from its defensive zone and struggled to even get off a shot in the first ten minutes of play. Columbus's David Savard manage to tie the game early in the second, and beyond the goal by Jeff Petry, the rest of the night was all about the Blue Jackets.
Columbus tied the game in the second after the Montreal Canadiens went up 2-1 and took over the lead early in the third by Artemi Panarin. Columbus made it 4-2 after Riley Nash went in alone scoring on an empty net after Carey Price extended himself too far. Oliver Bjorkstrand made is 5-2, and Brandon Dubinsky scored on an empty net after Price was called to the bench. Oliver Bjorkstrand commented that they had a bit of a slow start and then came out flying. Bjorkstrand, who has now scored in the last three games added,
"The positive thing is we found a way to bounce back. I think halfway through the (first) period we started taking it up, and I think the second period we really took a big step."
Riley Nash's goal was his first in 49 games. Bjorkstrand added to his season point total with a second goal, and that was met with praise by coach Claude Julien, who stated,
"We hung in there, but they got better, and the game went on and we didn't. That's pretty much the story of tonight. A lot of mistakes."
Mobile punters looking to follow the Montreal Canadiens in their game against the Winnipeg Jets on Saturday night will find excellent in-play odds at leading sportsbooks such as Bet365. Registering today will entitle new punters to up to $200 in signup bonuses. Register today and prepare for the upcoming post-season with Bet365.