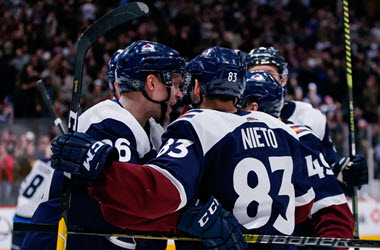 The Colorado Avalanche made changes to their top line last night, and the results saw them breakthrough and scoring a devastating victory over the Winnipeg Jets.
The first period went scoreless as both failed to take advantage of scoring opportunities with the Colorado Avalanche missing a golden opportunity last in the first when Matt Calvert went on a breakaway. That saw his shot rebounded and Carl Soderberg out front with an open net but his shot went over the post.
Soderberg opened the scoring midway through the second period after picking up a deflection off the pads of Connor Hellebuyck. Tyson Just, A.J. Greer, Gabriel Landeskog Mikko Rantanen, Matt Culver and Nathan Mackinnon each scored goals last night. Jost, Soderberg, Sven Andrightetto and Matt Nieto earned two assists last night and Calvert, Landeskog, J.T Compher and Ryan Graves each earned one.
Sportsnet
The key to Colorado's success last night came with the recent splitting of Rantanen, MacKinnon and Landeskog, its top line, to help strengthen its offence. That seems to be paying off as the Avalanche has scored ten goals in its last two games. Colorado's coach, Jared Bedner stated, in post-game interviews that,
"Every time I draw up the lineup that's what I'm hoping for. The last couple games have been really good."
Varlamov who stopped 46 shots on goal was denied a shutout after Kyle Connor scored late in the third period. Connor Hellebuyck stopped 39 shots for the Jets, who suffered their second loss to Colorado inside of a week. Winnipeg has only won two of their last eight games. Paul Maurice, coach of the Winnipeg Jets, is looking for answers on how to get back to winning stating,
"You know what, fellas, you're not getting much from me tonight. We weren't very good. We weren't very good. I'll fix it tomorrow. You guys have a wonderful day."
Adam Lowry, who plays forward with the Jets added that the performance is unacceptable adding.
"I'm surprised. We knew they'd be hungry. They're fighting for a playoff spot. I guess we're fat and comfortable where we're at because the effort wasn't there."
Captain Blake Wheeler also is not pleased with recent performances stating that the Jets looked like that had given up, and that was disappointing. Wheeler also commented that,
"Even when we were out of the playoffs and there was nothing to play for, we had a group that played hard. We didn't do that tonight. If we have a bunch of guys that want to look in the mirror instead of point fingers, we'll be all right."
Matt Calvert and Nathan MacKinnon began the third period rush scoring what was the fastest goal back-to-back this year for Colorado. It was the beginning of a five goal period that saw frustration showing on the part of Winnipeg's Mark Scheifele after he got into a shoving match with Nikita Zadorov.
December had been a tough month for Colorado, who were near the lead in the Central Division and now are sitting outside of a spot in the playoffs. However, the recent line changes put them back on track towards getting back in the hunt, and for punters, that is good news considering betting.ca's recommended NHL bookmakers will begin showing favourable odds.
The Colorado Avalanche now head out on the road for a two game road trip. That will see them visiting Chicago and Nashville, while the Jets head to Las Vegas to take on the Knights before visiting Arizona on Sunday.