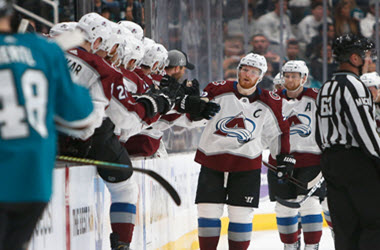 The Colorado Avalanche were behind in the second period and at risk to going down two games to the San Jose Sharks until a line change saw Colorado's top scores joining together and getting the results needed to take the win and tie the series.
The saw Gabriel Landeskog, Mikko Rantanen and Nathan MacKinnon hitting the ice to make it happen. Landeskog scored first, and Mikko Rantanen set up Tyson Barrie. Commenting on the lack of results in the first period, Mikko Rantanen said,
"In the first period, we didn't get much going so maybe he wanted to switch a little bit and see if it brings a spark. We got an early goal from Landy and there was no changing back."
Nathan MacKinnon, Mikko Rantanen and Landeskog were instrumental for the Colorado Avalanche in scoring during the second period. After losing 5-2 in the first game, they made the difference in turning Game 2 into a winning combination. Also scoring for Colorado was Matt Nieto and Nathan MacKinnon scored the winning goal on an empty net and giving the Avalanche a 4-3 win over the Sharks. Tyson Barrie, who scored one goal and earned two assists commented that,
"It's big for our confidence. This is a tough building to win in. We haven't had a whole lot of success here. We wanted to come in and at least get a split. We did that."
Sportsnet
The Avalanche and San Jose Sharks will next meet for Game 3 in Denver on Tuesday night. Punters looking for action should take note of the generous signup bonuses available for the playoffs. With the likes of Sports Interaction and Bet365 each offering lucrative bonuses, now is the perfect time to register and place your bets.
San Jose's Evander Kane scored one goal and scoring two was Brent Burns. Goalie Martin Jones stopped 28 shots, but that was not enough to stop the Avalanche's top line from turning the game around and getting ahead. MacKinnon, Rantanen and Landeskog has been dangerous all year and it didn't take long once back together for Landeskog to work his way to the net and place himself in position and deflect a shot that went a bit wide from Tyson Barrie.
Only a few shifts later, MacKinnon, Rantanen and Landeskog, delivered scoring opportunities again after Rantanen worked his way past Marc-Edouard Vlasic sending the puck to Landeskog whose shot beat Jones and put Colorado up 2-1. Commenting, Rantanen said,
"I just tried to beat the D and run the puck down. Landy gave me the 50-50 puck and they didn't whistle it down so it was good for us."
San Jose appeared to think an icing call was to come and slowed down and that slow down on the play cost them after an offside call was not made by officials. Peter DeBoer, coach for the San Jose Sharks, when asked what he thought replied,
"Whether I thought it was doesn't matter. The players did and they let up, they relaxed for a minute, it obviously wasn't, so it's I guess a lesson, and that is don't assume anything is in the playoffs, play and make sure."
San Jose missed an opportunity to tie the game early into the third period, but Philipp Grubauer denied Logan Couture with a glove save. It wasn't long after that Nieto scored to make it 3-1. That gave Colorado some room to breathe before a wrist shot from Burns made it 3-2. San Jose pulled the goal in their final minute in favour of a one man advantage but failed in their bid after MacKinnon scored on an empty net.