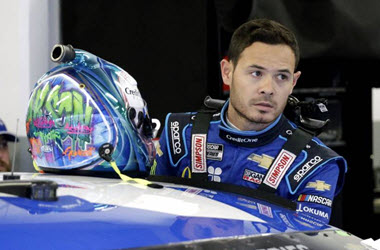 Kyle Larson has been fired as a result of racially unacceptable language during a virtual race live stream. Initially suspended by Ganassi Racing, it quickly became apparent that the team owner was being put into the decision of wither parting ways with Larson and terminating his contract or lose all his sponsors.
Those sponsors include Chevrolet, Credit One Bank and McDonald's who were on the verge of pulling funding of his team which would result in the team going bankrupt and that put an end to Larson's time with Chip Ganassi Racing.
Essentially, the decision was not on left in the hands of Ganassi and on Tuesday he called Larson to inform of his decision to terminate his contract, a move that was the only way to bring back stability to the organization. Commenting to The Associated Press Ganassi said,
"I told Kyle he can come back from this; he can even come back from this with our team, but there really wasn't any choice."
The downfall of Larson with Chip Ganassi Racing took less than two days, an unusual turn of efforts in a time when all sports are on hold as a result of the coronavirus pandemic. Larson was due to become a free agent next year but watched from the sidelines as virtually all sponsors he has walking away and ultimately, most likely costing him an eight-figure salary.
ESPN
Larson now forfeits his 2020 salary and the anticipated huge payday that was expected to come with his next contract. Should he manage to find another team willing to take him on, it will be for a substantially less amount.
The trouble for Larson began on Sunday when it seemed like he lost communication in his headset with his spotter while in competition with an iRacing virtual event that has seen its popularity grow while NASCAR is on hiatus. While checking his mic, he was heard saying "You can't hear me?" followed with the N-word to his spotter, who is caucasian.
On Monday, Ganassi suspended him without pay and that suspension was made indefinite by NASCAR with orders from NASCAR to undergo sensitivity training. However, this was not enough to satisfy Ganassi's main sponsors, who almost immediately pulled funding. Shortly after, Larson lost the sponsorship of Chevrolet followed by all but a single sponsor remaining.
Without any funding for Ganassi's No. 42 Chevrolet, if Larson was driving, Ganassi had no choice but to terminate Larson, and it is expected that Ross Chastain, who is contracted to Ganassi as a development driver, will take over the No. 42 Chevrolet. Ganassi, in a statement on the team's decision, said;
"After much consideration, Chip Ganassi Racing has determined that it will end its relationship with driver Kyle Larson. As we said before, the comments that Kyle made were both offensive and unacceptable especially given the values of our organization. As we continued to evaluate the situation with all the relevant parties, it became obvious that this was the only appropriate course of action to take. "
Larson could also see his career in sprint racing vanish as he drives a Chevrolet in the partly sponsored Lucas Oil World of Outlaws Series. Larson was in the midst of testing his upcoming free agency was looking to create a bidding. It was thought that he was considering remaining with Ganassi Racing, moving to Tony Stewart's NASCAR team or others such as Hendrick Motorsports. However, after the racial slur, all that is in jeopardy. While it clearly was not meant in the context of being racially motivated, we are in a time when those in the public eye who use any socially unacceptable language are quickly brought down regardless of its context. Commenting to the media, Larson said,
"I made a mistake, said the word that should never, ever be said. There is no excuse for that. I wasn't raised that way. It is just an awful thing to say. I feel very sorry for my family, my friends, my partners, the NASCAR community and especially the African-American community. I understand the damage is probably unrepairable and I own up to that."
How the future will unfold for Larson and whether he will find another team or return to Ganassi at a later stage is unknown but suffice to say, he is not expected to return to NASCAR this year, if at all. Ultimately, it will take time and could that could translate into several years and will be an oversight on better judgement that Larson will not soon forget.