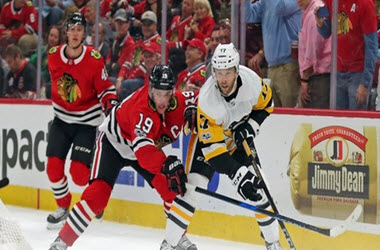 The Chicago Blackhawks finally brought an end to their eight game losing streak, and Jonathan Towes, it could not have come soon enough after the Blackhawks came away with a 6-3 victory against the Pittsburgh Penguins.
Towes scored for the Chicago Blackhawks and earned two assists last night. Also scoring for Chicago was Marcus Kruger, Andreas Martinson, Brandon Saad and Alex DeBrincat. Earning assists saw Kruger, Martinson, Saad, Brent Seabrook, Patrick Kane, Duncan Kieth and Carl Dahlstom each with one assist each.
Chicago coach, Jeremy Colliton, commented that he felt the team played a winning style adding,
"Direct, hard-nosed. Hopefully that'll turn into more points. So nice to see them get rewarded, because we played really hard in some other games and didn't come out with a point."
Towes's goal last night saw him become the sixteenth player active in the NHL to reach 700 points with same team. Towers added his 701 later in the game when he assisted on Brandon Saad's goal. The moment was not lost on Toews, nor sportsbooks such as Bodog, who offer odds on the NHL and generous signup bonuses for punters interested in sports betting. Commenting, Toews said,
"It's a relief, but it's definitely just a good feeling. The guys have something to celebrate, something to enjoy. It's something we've got to be aware of and build off."
Pittsburgh Penguin Bryan Rust scored a hat trick for the Penguins, scoring all three of their goals. Earning assists were Zack Aston-Reese, Derek Grant and Olli Maata. Mike Sullivan, the coach for the Penguins, was proud of Rust's accomplishment stating,
Sportsnet
"He had a great night. I thought he worked hard for all of his opportunities. He was one of the guys that we had that was skating, that was on the puck that was playing the game on his toes."
Sullivan added that he felt there were many players who seemed to be lagging the energy Rust displayed last night adding,
"We scratch and claw and get ourselves back in the game. It's disappointing we didn't find a way to win. It's a missed opportunity from our standpoint."
The Penguins have not been having a productive season this year having lost their last three games. Chicago's Corey Crawford has 40 saves for the night, and Casey DeSmith has 23. Pittsburgh Matt Murray, who was the starting goalie at the beginning of the season before being injured was DeSmith's backup last night.
Chicago also had some shake up's this week to their roster after recalling Carl Dahlstrom and Dylan Sikura from their AHL team. Last night was the first time since mid-November that they lead out the scoring. Jonathon Toews felt they had a better start stating,
"We got a better start, which is obviously a huge issue with our game the last little while. We sustained the effort even when they had spurts, and they played hard."
Andreas Martinsen earned his first goal of the year after a shot by Carl Dahlstrom bounced off his back and past the crease. Seasbrook's goal put the Blackhawks up 2-0 but that was cut to 2-1 after Rusk scored the first of his three for the night. Rusk tied it 2-2 in the second before Alex DeBrincat scored on a power-play goal to take back the lead. From there on, Pittsburgh faltered and expect for an additional goal by Rusk, failed to capitalise on scoring opportunities.