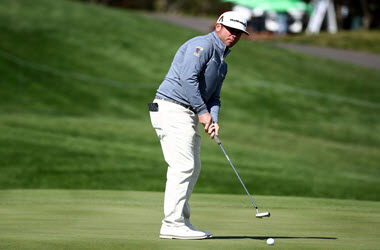 The first round of the CJ Cup in South Korea met golfers with windy conditions, but they did little to curb American Chez Reavie, who shot a 4 under 68 yesterday and took a one stroke lead after the end of the first round on Thursday at the Nine Bridges golf course.
The windy conditions caused the most challenges on the back nine as this is where the most difficulties lie at Nine Bridges, but Reavie managed to hit two birdies and gained three shots on the final nine to end the day in the lead albeit a small one.
The group of 70 included Si Woo Kim, who shot 69 on the day, as did Danny Willett, who are tied for second. Byeong Hun An shot 2 under 70 to sit in third place tied with Australian Rod Pampling.
Brooks Koepka, who won the PGA Tour player of the year was playing his first tournament this year shot a 71 and at three strokes behind, is joins Japans Hideki Matsuyama and Britain's Paul Casey for eleventh.
American's Michael Kim, Scott Piercy, Nick Watney and Austin Cook each shot 2 under and are in the top ten going into round two. Justin Thomas, defending champion sits well back from the leaders, as does Ernie Els.
PGA Tour
Chez Reavie has only had one win on the PGA tour, with it coming in 2008 during the Canadian Open. While he has yet to win since the Canadian Open, Reavie has seen some improved finishes with two second place showings, one at Pebble Beach and the other at Phoenix.
After round one, Reavie stated that it was a great day adding,
"I hit the ball really well. The wind was blowing really hard all day long so you had to really start the ball well and keep it out of the wind. Luckily, I was able to do that."
Even while battling the windy conditions, Reavie managed to find the fairway fourteen times, and with a strong performance on the greens, said it was key to his good score. Despite the windy conditions, Reavie found all 14 fairways off the tee and hit 15 out of 18 greens in regulation, which he felt was the key to a good score. Reavie . while speaking to reporters about the conditions said,
"It's tough because once you get above the hole with this wind, it's really hard to chip it close. The more greens you can hit, the better and that was key to my game."
Britain's Danny Willett, who is tied for second has been battled injuries since his win at the 2016 Masters and has watched as his rank dropped to 342, finished the round 3 under par 69 thanks to five birdies. Since his 2016 win, he has only had one top-five finish, with that coming at the 2016 Italian Open. Willet committed to playing the Tour this after getting his membership and said it was critical to get off to a good start after a round few years. Willet added,
"I've done two tours for a couple of years, and it's very difficult. We committed to play on the PGA Tour, to play predominantly over here this year and next. It's nice to kind of get in and get some points early if you can."
Round two of the CJ Cup gets underway Friday morning with round three on Saturday and the final round on Sunday. Those punters wanting to place bets on whether Reavie will hold on to his lead as the second, third and final rounds play out can do so with a number of top-ranked golf betting sites such as bet365, who will reward new signups with up to $200 in bonuses. The PGA tour is in full swing, so register today to avoid missing future PGA events.